By Kaira Pal
Lisa Alexander, Australia's head coach at the 2018 Commonwealth Games, hailed the England star: "Her effort on court is immense and one we were continually trying to grind down."
That shooting star Alexander spoke of is of course Helen Housby, a key cog in England's gold medal side who caused heartache for Australia.
She is the player you definitely want under the net when the game is on the line and the buzzer is about to go.
The shooter's movement up the ranks of English netball was kick-started by two former England international shooters – Karen Greig and Tracey Neville.
In her role as England Netball's Pathway Coach for the North West, Greig spotted Housby at a North West talent festival. At that point, the 15-year-old was representing Cumbria, and Greig recalled her initial thoughts about the young shooter.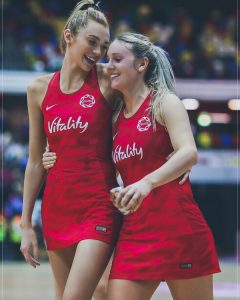 "She was one of these players who was by no means a complete package, but she had something. You looked at her and thought, where has she been? What kind of coaching has she had?" she said.
"At that point, she hadn't really had much [coaching] and I think that she had just been playing local league for a club."
Greig instantly discussed this talented player with Neville – who was Manchester Thunder's head coach at the time – and together they went about bringing Housby into the Superleague franchise's set up.
The coolness Housby showed under the greatest pressure of all on the Gold Coast at the 2018 Commonwealth Games, and the way in which she held the weight of her team on her shoulders with that last-second shot in the final, wasn't a new experience for her.
It is clear that Housby, like all shooters in netball or goal-kickers in rugby, has an innate ability to thrive under pressure. Every one will spend hours on a practice court or pitch, visualising that winning moment.
They all will live it thousands of times over in their minds. For some, crunch time may not happen during their career but for others, it becomes a reality as it did for Housby. She has a Commonwealth Games gold medal to show for it.
This article was contributed by GEMS WIS student Kaira Pal and completed as part of GYS' free sports journalism course. The course allows students to gain experience in sports writing and commentary, complete with feedback from the GYS media team. To find out more about the course click here.