Do you love your sport?
Whatever that game may be, if you can't get enough of playing, analysing and talking about it, how about putting all that knowledge into practice with the GYS Sports Journalism course?
What is the GYS Sports Journalism course all about?
The course will equip you with all the base skills used by a sports journalist working on the radio, at a newspaper or at a television station no matter where they are in the world.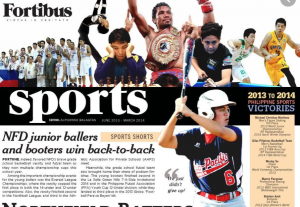 With eight modules including match reporting, interviewing, photography and commentary, you'll learn how to cover your favourite sport or club – it could even lead to you writing reports on your own sporting team in the Gulf!
Each module requires you to read through information on each topic, before completing an assessment at the end. A couple of short answer questions are followed up by you putting in to practise what you have learnt – whether that be submitting your own photos, interviewing your coach or writing a match report.
How long is the course?
You can set your own pace. There are eight modules and we recommend completing them across four to six weeks. Each module requires you to set aside around two-three hours to finish each. However, depending on how busy your week is you have up to 10 weeks to finish the course, and you'll be sent a certificate on completion. Your work will be graded by a GYS sport journalist and you'll receive personalised feedback. Furthermore, their support will always be available to you so you can contact them any time for assistance.
Why should I do this course?
If you have an ambition of entering the media industry it's important to have a body of work behind you. With this course giving you the opportunity to have work posted on GYS, you could have published articles in your portfolio before you've even left high school! This course can be tailored to any sport, so you can write about football, netball, swimming, athletics or anything else that takes your fancy. You don't even have to be a player – plenty of passionate writers come from those paying close attention on the sidelines!
What's the next step?
Email content@gulfyouthsport.com with your name, school and preferred email address. We'll then send you more information and set you up so you'll be ready to start the course! The next intake for the course will be in October but get in quick because entry is limited to the first 40 people to sign up. Feel free to email across any queries to the same email.
The short video below shows a preview of what the course looks like: