Coach Logic is enhancing young athletes love of the game, engaging them with captivating video match analysis and building up the collaboration between team mates.
Many young players struggle to concentrate when told how to improve by a coach at the front of a meeting room, but now they're able to contribute in a way that's familiar to Generation Z.
Using the technology of Coach Logic on any device or operating system athletes can log in, review short snippets of a match and note down their thoughts for team mates, or even just their coach to see. This breaks down the need for long meetings and the hassle of organising players to be in the same place at once.
It has benefited squads playing the most popular team sports starting at under-11s and ranging all the way up to the elite level, pairing with video technology such as Veo to improve performance and engagement.
Top sporting schools across the UK including Oakham School and Whitgift School have seen huge benefits to their on field performance, as more utilise the academic program for its GCSE and A-Level students.
As the ease of Coach Logic hits the Middle East, an introductory offer for schools in the region means those who sign up for five sports receive the academic package FREE. Make an enquiry and read on to find out more.
See how all the features of Coach Logic combine.
How does Coach Logic work?
The software combines video analysis and communication tools to streamline the process of post game discussions. Every person in a group is given access to the footage, allowing each to review, create clips and mark key events which are accessible to their team mates.
Players are now being involved in the process of video analysis rather than simply being told by a coach how to improve, without ever seeing the footage. The video is now in one central place and accessible by everyone, rather than a few key coaches.
Co-founder Andy Muir said students and young athletes are part of a generation that does most of their learning visually.
"With regards to technology, we combine certain video analysis and communication tools and they're all accessible from any device," he said.
"70% of our usage is on phones so people can click on matches or phones rather than having to all be in a classroom together or have a specific type of device and that's pretty powerful in helping to get students involved.
"80% percent of Gen Z will go to YouTube to learn so if you just replace the word 'YouTube' with 'video', 80% are looking at video to learn so we work really hard to give as many people access to their own video in this sporting context."
What problems does Coach Logic Solve?
Saving time and improving communication within a team are key pillars that lead to enhanced performances using the software.
Quickening the review process allows students to be more engaged and understand the game better as they view short chunks rather than being weighed down by hours of game play.
Muir said the reduced time needed to edit match footage means coaches can spend more time focusing on their players.
"The players or students and the coaches are all discovering things together so you have that acceleration of discovery but you also have that acceleration of learning as well," he said.
"The load is shared and the team is breaking down the video together so everyone is getting that learning effect so then it allows you to get onto the real important part of coaching, making an impact."
"A lot of time can be saved so rather than uploading a video into Coach Logic and one person spending two, three or four hours going through it, it's done collaboratively so the same output can actually be achieved within 10 minutes."
Unlike traditional types of viewing footage where only one person has access, now the whole team has it with them at all times on their phone.
Being able to mark key events and moments in a game also means there are no headaches of trawling through whole halves to find the play you're searching for. Once a marker has been set, it's easy to go straight to that play and discuss.
How does Coach Logic develop players?
Players can be told in words what to do to improve but once they can see it visually, making that a reality becomes clear.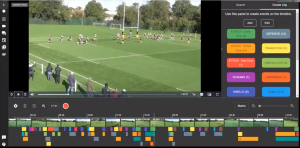 "By getting them involved in that process right from the start it has a massive positive learning effect on their understanding of the game so they become like students of the game," Muir said.
"Their understanding of their role in the game and their understanding of other people's roles within the team develops.
"The common thread to get the most engagement is that it needs to be positive engagement. There needs to be a real emphasis on positive stuff and that will encourage them to engage and it helps them build that culture and environment of trust. So if there is a point potentially where someone needs to be corrected there's honesty and openness as everyone is going in the same direction."
Many players have great analytical minds and when given the opportunity have used Coach Logic to create their own game plans that were brought to fruition on match day.
How is Coach Logic being used at an academic level?
Coach Logic was developed by former teachers Andy Muir and Mark Cairns who drew on this background to develop key features of the platform. They wanted students to help take ownership of their own development in sport and reflect on performances.
Using Coach Logic students can easily view footage to create clips, add comments to show their understanding and collaborate with classmates for joint analysis.
Clips can be assigned to certain students and settings can keep analysis private between a student and teacher. It's then simple for teachers to keep track of the work their students have been completing.
"Moderation reports for A-Level and GCSE can be produced in about two minutes. We've had feedback through their teachers that students are loving it because they can just get on and do it when they want," Muir said.
"They're ready to go on their own devices and the parents are loving it as well because it was a really onerous task previously because not all students are familiar with how to use iMovie or those types of programs. They were spending a lot of time doing that sort of thing rather than actually just doing their academic work so parents like it as well."
"It also means all the students always have access to the footage because Generation Z might not sit down and watch a match for an hour and a half but they might spend 10 minutes here or there doing it."
As Coach Logic enters the Middle East market, a limited-time introductory offer means schools that sign up for five sports receive the academic package FREE. Make an enquiry below.
Case Study
Watch how George Watson's College in Edinburgh involves its students in analysing games.