By Erin D'Oliveira
17 year-old Lillian Bate has been involved with gymnastics her whole life. 
Currently training at Dynamo Gymnastics Club Bate has trained all over the world including in Australia, Dubai, Turkey and Canada. 
Whilst living in Turkey Bate trained four days a week for five hours a day as the gym was very far away from her house.
 "It was tough", she said and so she trained there for about a year and a half and then even though she was very passionate about gymnastics she took a year off.  
During her year off she moved to Dubai and her drive to become the world's best gymnast started. She started training at a new club six days a week for three hours each day. 
With these intense hours and Bate wanting to "make it big time" she decided that it would be best to start home schooling, having attended GEMS World Academy for a year. This gave her the same daily routine which she enjoyed and it allowed her to do school in the afternoons and train in the mornings.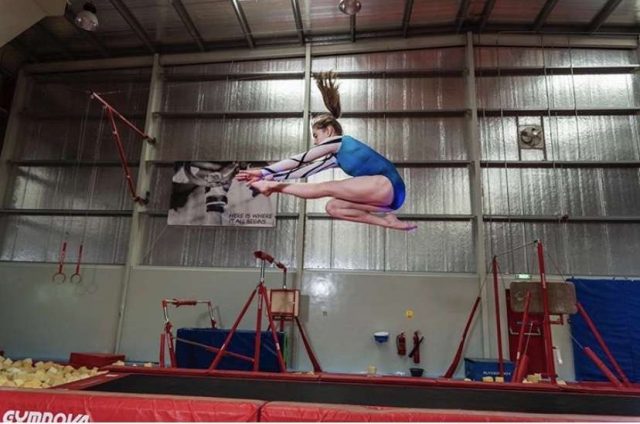 This was great in the beginning however she soon struggled with the lack of socialising that regular school gave her, she said she seemed to be missing out on all the fun outings and parties that her friends were doing whilst they were in school.  
"Socialising was getting hard. I wasn't spending time in a school with my peers, so I was missing the outings, social gatherings and fun times outside the gym and home," Bate said.
A little while later in 2018, Bate and her family moved to Canada. This was an incredible opportunity for Bate as it gave her the opportunity to train alongside Olympic gymnasts and national team members both of which are her dream teams to be a part of.
She also decided that she would start to go to back to regular school. She would go to school in the mornings and then would train at around midday which gave her the opportunity to learn in a classroom environment and socialise with her peers as well.
Bate has been very successful in her gymnastics journey. She has attended many international competitions as well as qualifying and attending the Australian National Championships.
Bate strives to be the best and this year she wants to prove it. She said she knows that anything is possible and all she has to do is work hard and believe in herself. 
This article was contributed by Kings' School Al Barsha student Erin D'Oliveira and completed as part of GYS' free sports journalism course. The course allows students to gain experience in sports writing and commentary, complete with feedback from the GYS media team. To find out more about the course click here.