By Lily Hatton
During the 2019-20 academic year, Brighton College's U13 netball team never lost a match.
Whether it was an ADISSA league match or tournament or BSME netball in January, and not forgetting their amazing winning streak in the U13 BSME games, Brighton College sustained a perfect winning streak up to the point where schools had to transition into E-Learning.
The highlight of the majority of every player's year was their victory in the netball final of the U13 BSME games in 2020, where all their dreams had come true, all thanks to a single goal.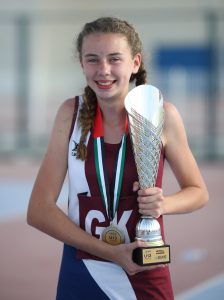 The grueling tension of the final emerged when the full-time whistle blew. It was a tied score between BCAD and Kings' School Al Barsha. Five measly minutes of extra time had to be put into play; five minutes later, the whistle blew. Yet another tied score. The players' dread of the officials resorting to going to golden goal vanished when they announced that they would gift us with a final two minutes.
In those two minutes, the Brighton girls managed to score a fabulous goal putting them one goal ahead of Kings'. All they needed to do was hold them off from scoring until the whistle blew. That was exactly what they did!
The last thirty seconds were the most nail-biting half a minute those girls experienced in their life. The ball was in Kings' Al Barsha's goal third; one mistake and Brighton could lose it all. With the crowd counting down the fateful last seconds, BCAD's defence managed to keep the ball out of play by forcing the shooters to repeatedly take throw-ins.
As Kings was about to take the final throw in the whistle finally blew. Brighton College had won! The BCAD girls did not know how to express their ecstasy. Some burst into tears on joy, others ran into their parents' arms. No matter how they celebrated, the feeling of accomplishment was ubiquitous among the victors.
Now they only hope that they can experience that same triumph next year.
This article was contributed by U13 Brighton College Abu Dhabi netball captain Lily Hatton and completed as part of GYS' free sports journalism course. The course allows students to gain experience in sports writing and commentary, complete with feedback from the GYS media team. To find out more about the course

click here.