Mansoor bin Mohammed Honours DIA Emirates Hills, Winners of the Hamdan bin Mohammed Order of Merit for Sports.
His Highness Sheikh Mansoor bin Mohammed bin Rashid Al Maktoum, Chairman of the Dubai Sports Council, recently awarded DIA Emirates Hills (DIA EH) with the most distinguished sports honour in the UAE – the "Hamdan Bin Mohammed Order of Merit for Sports Education School". 
The award is an accolade that acknowledges educational institutions that have demonstrated an exceptional commitment to sports education, the development of young talent, and the promotion of sportsmanship among students. DIA EH's dedication to these principles made it a standout recipient of this prestigious recognition.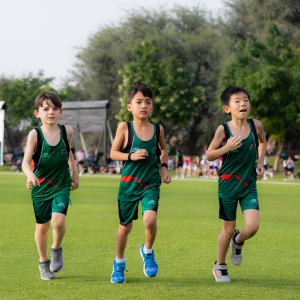 Inclusion and Development
DIA Emirates Hills has long been known for its comprehensive sports program and its unwavering support for students who have a passion for sports. 
The DIA EH Director of Sport, Mihail Kouzev, couldn't hide his pleasure when discussing the school's sports culture and teams, as the school promotes the accessibility of sports to all students, regardless of their skill level.
"Our thriving school sports culture serves as an inclusion inspiration, pledging that everyone may and can participate."
What DIA EH really treasure is the vibrant sports community they have created. The belief in the transformative power of sports and its potential to make a difference is apparent in the words of Kouzev.
"It's an inclusive inspiration, ensuring that everyone, regardless of their skill level, has the chance to learn, shine, progress, and be part of something bigger" he said.
Commitment to Excellence
DIA EH's students actively engage in a diverse range of sports, achieving excellence not only at the elite level but also in local and international competitions, such as the World School Games. 
Their participation in the DASSA leagues in Dubai and representation in international sporting events is a testament to their dedication and passion, all of which align with the school's commitment to creating an environment where students can thrive as athletes.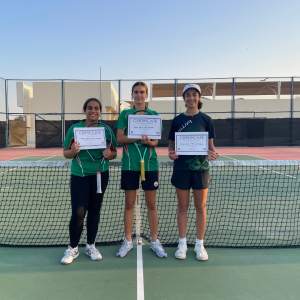 This commitment is evident in the remarkable achievements they have unlocked over the years and continue to strive for this year as Term 1 is well and truly underway for all DASSA and ADISSA schools.
Kouzev highlighted that the school witnessed a "significant rise in the volume of students' enthusiasm, perseverance, and energy" during sports trials and practices going into this season, indicating a growing interest in and commitment to sports.
The various teams at DIA EH are excelling in their own unique ways so far this season, aided by the coaches that ensure training sessions are "difficult and engaging" for the athletes and teams, setting a high standard for continuous improvement.
From basketball to water polo, girls' football to cricket, all teams are demonstrating their unique strengths and successes. It is this diversity and commitment to various sports that enriches the sports culture at DIA EH.
DIA EH's comprehensive approach to sports education is one to be commended for and has been deservedly recognised with the 'Hamdan Bin Mohammed Order of Merit for Sports Education School' by HH Sheikh Mansoor Bin Mohammed. 
We look forward to following DIA Emirates Hills' sporting journey throughout the season!
If you would like to see all of this term's results so far and current league table standings, check out the DASSA website here.