In the world of football, the rise of young players is often met with awe and applause. And today, we have a truly remarkable story to share about a young student from Repton Dubai named Knight, who has taken Gulf football by storm.
Knight's journey from the Chelsea Football Club Pathway programme to signing with UAE Professional League side's Al Wasl Soccer Club's youth academy is an impressive next step in his football development.
A Star is Born
Knight, whose passion for football began at an early age, found himself in the prestigious Chelsea FC pathway programme. Under the direction of skilled coaches and dedicated mentors, Knight polished his skills and nurtured his love for the beautiful game with the London-based outfit.
His former coach at the Chelsea FC Pathway, Steve Shipp, praised his skills on the pitch by saying: "During his time here, Knight had excelled at learning new footballing techniques in both unopposed and opposed environments which really aids his skillset when we played fixtures against different Foundation Development Centres."
Earlier this month the Repton Dubai student had the opportunity to make his first appearance for Al Wasl SC U10s in a friendly match against Al Ain. Despite it being his debut for the club, Knight had put in a great performance. His efforts on the pitch left many impressed, and parents from both sides came forward to say, 'well done.'
For many, Knight was the player of the match, which spoke volumes about his great performance.
Scouts Take Notice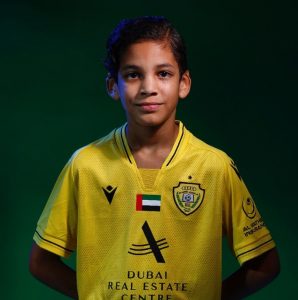 It's not every day that a young footballer catches the attention of seasoned scouts, but Knight's performance on the pitch did just that. An assigned scout, representing prestigious football academies like PSG, AS Monaco, and Le Havre AC, was present to watch Knight in action. The scout, who had the difficult task of choosing among countless talented youngsters, confirmed that all three academies expressed a strong interest in signing Knight when he turns 11 years old.
This exciting news truly showcases Knight's abilities and the remarkable progress he has made in his football journey. It's not just his family and supporters who believe in his potential, but also some of the biggest names in football development.
A Proud Parent
Knight's father, Luke, beamed with joy when talking about his son's recent move to Al Wasl SC. He emphasized how challenging it is for an international child to secure a place in a Gulf professional club's academy, especially in the UAE. Luke's words are a reminder of the dedication and hard work that both Knight and his family have put into giving the youngster the best opportunity to improve in a positive environment.
Luke said: "We are extremely proud of Knight's recent move to Al Wasl SC, especially knowing how difficult it is for an international child to enter a local professional club academy. We hope Knight continues to enjoy football, making new friends and representing his club and school teams to the best of his abilities."
The Future is Bright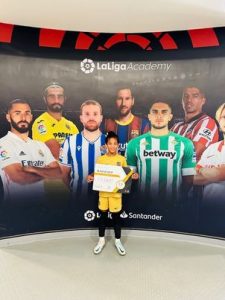 Knight's remarkable journey from the Chelsea FC Pathway programme to signing with Al Wasl SC is a testament to the power his passion, dedication, and talent. His story reminds us that dreams can be achieved with hard work and unwavering support from family and mentors. We look forward to witnessing the next chapter in Knight's journey as he continues to make waves in the world of football.
Do you know of a telling sport story related to the Gulf youth? Share your news with Gulf Youth Sport by emailing us at info@gulfyouthsport.com.