Competing on the global stage, the Gothenburg Youth Games provided an opportunity for two Gulf athletes to shine on the track.
The spectacular Gothenburg Youth Games, held in Sweden, is a yearly outdoor athletics open competition bringing the best young stars together, spanning from ages 12 to 19.
BRINGING HOME THE GOLD
There was one young sprinter that beamed brighter than the northern lights – Mario Gradnitzer, a sixteen-year-old running sensation from Ultimate Athletics who also represents Dubai International Academy – Emirates Hills at school level.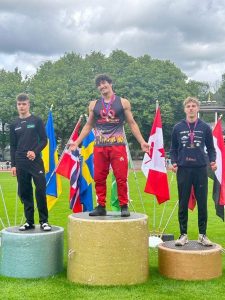 With Grade 11 around the corner, Mario proudly represented his unique heritage of Austria, Palestine, and the UAE as he stepped onto the track for the 100m and 200m sprints. The crowd could sense the electrifying energy as he positioned himself in the starting blocks, he was determined more than ever to take home the gold.
In the 100m final, the air crackled with anticipation as the starter gun fired. Mario exploded from the blocks, his powerful strides propelling him forward like a rocket. He surged ahead, leaving a trail of awe-struck competitors in his wake. Crossing the finish line with a smile on his face, Mario secured the gold medal, which officially marked his name in Gothenburg Youth Games history.
But Mario's hunger for victory wasn't satisfied just yet. The 200m race awaited, and with it, another chance to prove himself. In a display of pure speed, he outclassed his rivals once more, capturing his second gold medal with an outstanding display of athleticism. Later on he explained how challenging but rewarding running in Sweden was,
"From training in the Dubai heat and humidity my whole life to 10 degrees Celsius and heavy rain. This being the biggest track and field event in Europe and having many climate odds against was nerve wrecking. Didn't run the times expected but managed to walk out with two gold medals in the 100 and 200m."
But the World Youth Games were not solely a stage for Mario's exploits. Among the constellation of stars, another name shined brightly – Ultimate Athletics runner Peter Blyckert. He's a fourteen-year-old prodigy from the Raffles World Academy, who proudly represented the combined heritage of Sweden, Ukraine, and the UAE.
Despite his young age, Peter demonstrated superb maturity on the track. In the 300m sprint, he surged like a gazelle, leaving spectators in awe of his grace and determination. Through a terrific performance this young man was able to walk away with a gold in the event.
IT'S ALL ABOUT TEAMWORK
As the Games concluded, the spotlight turned to these two young champions – Mario and Peter – their journeys intertwined, as they compete for the same Dubai running club, Ultimate Athletics. Their performances showcased not only their exceptional talent but also the power of teamwork through sport.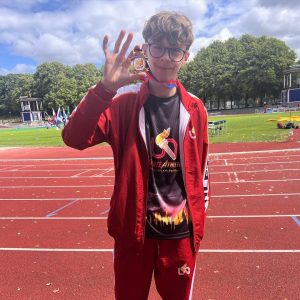 Peter went on to say how close two are on the track. He said:
"A lot of teamwork was involved with strategies and staying relaxed. Me and Mario are close and he gave me the speech of a lifetime to get me back on my feet and win. He's like an older brother, and gave it his all to make it the best so we could do the best.
The world stage is a tough place and included difficult events, so we went over what do with our coaches and got advice from our teammates which made sure we were confident on the line."
Well done to both of these young track stars! Everyone at Gulf Youth Sport wishes these two the best going forward with their respect athletics careers and we look forward to following your progress!
Do you know of a telling sport story related to the Gulf youth? Share your news with Gulf Youth Sport by emailing us at info@gulfyouthsport.com.