A useful new tool combining 21st-century technology and sport is helping youth footballers in the Middle East kick their game in the right direction.
Artificial intelligence continues to grow day by day in our world – and the field of sports is no stranger to this growth. The advancement of AI technology has changed the way sports are played, coached and watched. 
A new introduction to this is the Footbar tracker – a wearable tracking device specifically designed for footballers which is now available to young players across the UAE in an exciting new development.
The Footbar football tracking device was first developed in France with big names in sport behind its formation such as Stéphane Martin (ex-CEO, Girondins de Bordeaux FC), Cédric Bakambu (Forward player, Olympiacos FC), Pierre Gasly (Formula 1 driver, Alpine) & Tony Jalinier (CEO, Le Five).
The accuracy and reliability of Footbar data is certified by the KNVB, the Dutch Football Federation. An ambitious programme to roll out Footbar across all Dutch football players is in progress. 
What exactly is Footbar and how does it work?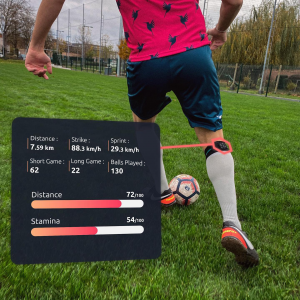 The Footbar tracker is an accurate, reliable and easy to use football tracking device that allows players of all ages and ability to accurately measure and compare their performances through a user-friendly mobile application.
Dozens of football-specific criteria – such as distance travelled, real play time, number of short passes, number of long passes, shooting speed, distribution of runs, and even sprint speed – the Footbar sensor assesses performance.
This analysis highlights the player's style of play and even allows them to compare their stats to professional players!
The Footbar sensor detects and records leg movements using an accelerometer. Next, its artificial intelligence gets to work. It understands what the player is doing on the pitch and translates that into raw data.
Light and comfortable, it quietly records your sessions in details – the Footbar tracker is thin and only weighs nine grams and does not interfere with any movement and you almost forget its presence during the sessions.
Footbar is officially here in the Middle East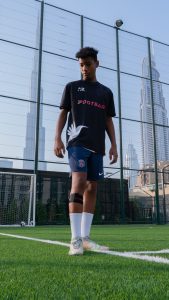 The brand has established a new headquarters in the technology hub of the Middle East – Dubai, UAE last year.
Footbar Middle East Co-Founder Nicolas Frotiee said "We just started about eight months ago and we are excited for what's in store for Footbar ME.
With our association with some of the biggest names in the football industry such as Youth Football League, Dubai Amateur Football League, Ajman Football Club, and French Football Academy in Saudi Arabia – we are looking forward to how this revolutionary device will takeover the football scene here in the Middle East."
You can learn more and purchase the Footbar tracker online through www.footbar.me. It is also available in-store at retailers Decathlon and Virgin Megastores across the UAE.
Do you know of a telling sport story related to the Gulf youth? Share your news with Gulf Youth Sport by emailing us at info@gulfyouthsport.com.