GEMS Metropole Strength and Conditioning Coach Conor Clarke (above) works with dedicated pupils in fitness activities.
Photo credit: Mike Lowery.
A school from Dubai's Motor City is shifting gears, as it looks forward to opening its new High Performance Institute this autumn.
GEMS Metropole School is thrilled to announce it will be opening the new High Performance Institute later this year for over 3,500 students. Additionally, this project is part of the four-school modelling plan the campus is conducting.
The advanced facility will provide access to all students, including competitive squad athletes. Physical education is of huge importance at the school, with Year 7-9 pupils benefitting from strength & conditioning and sports nutrition being included in their curriculum.
Additionally, students starting in Year 7 will have weekly access to the facility, with newly recruited full-time health specialists on hand to lead health sessions.
BUILDING THE MUSTANG CULTURE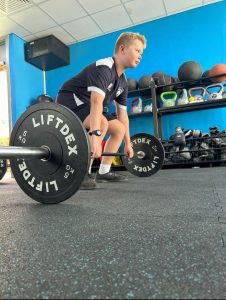 With the remarkable state-of-the art facility coming soon, GEMS Metropole's Director of Sport Mike Lowery explained what inspired the idea to create such a unique place.
"GEMS Metropole represents some of the best value in education in a highly competitive UAE market. For this price point, access to specialists and innovative technologies just doesn't exist in the UAE. The school has invested heavily, as we believe that high performance requires nurturing and care.
We also prioritise the well-being of our students and wider community. As part of the HPI offering, parents will be invited on a half termly basis to take part in workshops to support their understanding of what it means to live a healthy active lifestyle.
High performance is a passion of mine – this doesn't mean we want to win everything – we just want our students to have started to explore high performance and give them tools to help them achieve this in their own right. That's the culture we are starting to build at GEMS Metropole and what it means to be a Mustang."
NEW FACES LEADING THE WAY
Leading the herd into physical fitness are two highly qualified health professionals. Conor Clarke will guide strength and conditioning operations, he is a renowned athlete in his own right, having achieved top-tier sport in GAA while in Ireland. He is now competing in CrossFit in the UAE.
Clarke, is fully REPS (Register of Exercise and Fitness Professionals) qualified and also specializes in recovery methods such as cold water therapy (LUMI Ice Pods are currently installed on the school's campus).
Additionally Brad Mant, the campus nutrition coach, will assist students in making healthy choices. He has a deep passion for the wider concepts that drive performance results.
Mant also has his nutrition for performance qualifications from the UK and specialises in growth mindset techniques. Through his versatile skillset he will be working with the Mustangs top performers, by helping them find positive ways to cope with the cognitive and emotional demands of high performance sport.
UNITING THE COMMUNITY THROUGH FITNESS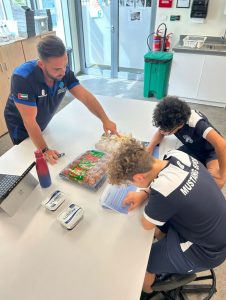 The construction process is less about building a winning culture, but is focussed on fulfilling GEMS Metropole's commitment to uniting the community, says Director of Sport Mike.
"The true innovation, however, rests with the integration of sports nutrition into the PE curriculum and linking all the aspects we know are huge contributing factors to high performance for athletes but aren't explicitly taught as part of a core PE curriculum.
"As I have suggested previously, this isn't about winning; it's about all of our community aspiring to achieve high performance in all aspects of their lives, be that sport, academics or in a career. That's the culture we are fostering at GEMS Metropole."
We look forward to covering more of this story when the High Performance Institute opens this September!
Well done to the GEMS Metropole for creating a positive atmosphere for youngsters in Dubai!
Do you know of a telling sport story related to the Gulf youth? Share your news with Gulf Youth Sport by emailing us at info@gulfyouthsport.com.