Students across Dubai came together to test their abilities in the unique DASSA Senior Aquathlon 2023 event, which had youngsters go the distance in both swimming and cross country events. 
Many pupils were eager to compete once again in the DASSA Senior Aquathlon, which is a swimming and cross country sporting event for secondary children spanning ages 13 to 18.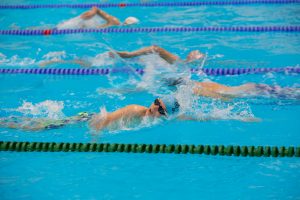 The popular sporting experience hasn't happened since the COVID-19 pandemic started so schools were extra keen to take part this term. This year's aquathlon was made even more special, as Hamdan Sports Complex hosted the distance event for the first time ever. Astonishingly, around 500 student-athletes from 26 schools competed in this youth sporting opportunity on a typically sunny day in Dubai.
A variety of different age categories would take centre stage at the world-renowned venue. Furthermore, the U13 and U15 age categories embarked on the journey of swimming 150m followed by running 1.5km. While senior students competing in the U18 age group had the gruelling test of swimming 200m before heading out on the 1.8km run course.
The DASSA Community Comes Together
Afterwards, many participating schools gave high praise for the event including Matt Journeaux, Safa Community School Director of Sport who was involved in organising the aquathlon, who would go on to say: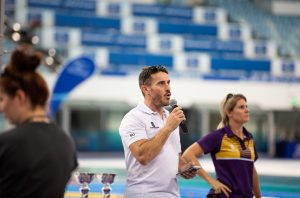 "The feedback from schools was extremely positive, and hopefully it is a good starting block to build upon for next year, where we hope even more schools and athletes are able to attend the event. We are also looking into the possibility of having a second event there throughout the year, which will take the form of a relay-type race!
"Students who attended the event and took on the challenging but rewarding format can feel super proud of themselves for representing their schools in such a positive way. Whether they podiumed or finished towards the back, simply completing the aquathlon is a great accomplishment.
"A huge well done to all our athletes in making it onto the top three podium in their respective divisions, there were some amazing times recorded."
Matt also said his favourite memory from this sporting opportunity was seeing the DASSA community come together and how "true comradery" was on display with young athletes supporting one another.
DASSA Senior Aquathlon 2023 Roll of Honour
Below are the proud DASSA Senior Aquathlon 2023 Team Champions by age category:
DASSA Senior Aquathlon 2023 Team Champions

Age Category
School
U13 Boys
JESS Dubai
U13 Girls
JESS Dubai
U15 Boys
JESS Dubai
U15 Girls
JESS Dubai
U18 Boys
Dubai College
U18 Girls
Dubai College
Well done to everyone involved in the DASSA Senior Aquathlon 2023 event!
Do you know of a telling sport story related to the Gulf youth? Share your news with Gulf Youth Sport by emailing us at info@gulfyouthsport.com.