A young baseball pitcher takes the mound at Al Quoz Pond Park. Photo Credit: Dubai Little League
With the major league baseball season now in full swing, we take a closer look at how the Dubai Little League is creating magical opportunities to play America's pastime game.
After making your way through the sunny beaches and wonderful scenery of Dubai's coast, you may just hear the distinctive crack of a baseball bat at Al Quoz Pond Park.
Established in 1996, the Dubai Little League has brought baseball and softball into the lives of many youngsters. Since then, the organisation has seen tremendous growth, with over 400 kids ages 5–18 actively playing the classic bat-and-ball games. The exciting baseball and softball action begins every October and runs until springtime.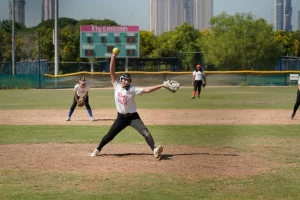 This particular Gulf baseball and softball league isn't just for North American expat children. Over 30 nationalities play the thrilling diamond game, including Arab nationals from Kuwait, Saudi Arabia, Jordan, and the UAE.
Current Dubai Little League President Roger Duthie, expressed just how much the international community has grown to love softball and baseball in Dubai:
"I think the Dubai Little League is a hidden gem in the entire Middle East; we're a wonderful community. I keep stressing the international angle of our community; it's not an American community; it's an international community. It's a male, female, young, and old community as well. That's what I love about it so much. We're always looking to get more younger families involved, and by getting those kids staying here from ages 4 to 18 to play and go off to university (and play), let's develop our first professional player! I'd love to see more people out; we're a fun organisation, and that's what it's all about!"
Providing professional training in baseball and softball fundamentals is the key value for the ever-growing league. That's why the Dubai Little League brings in members of the Los Angeles Dodgers (a Major League Baseball team) every year to visit for baseball clinics and, of course, autograph sessions. Big names that have come in the past are David Roberts, Chase Utley, and Adrían Gonzalez, just to name a few.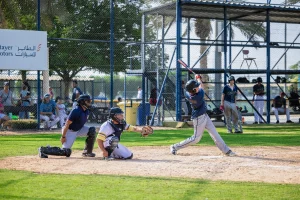 Expanding these particular sports to the rest of the Gulf is another important mission for this league. Every year, the Dubai Little League hosts and travels to two to four regional and local tournaments. Every year, the Dubai Little League hosts and travels to 2-4 regional and local tournaments. These exciting tournaments usually include over 1,000 players from around the globe. This youth sports organisation has even travelled to Kuwait, Saudi Arabia, and other countries to play in big games.
We at Gulf Youth Sport are wishing the best going forward for the Dubai Little League!
Be sure to check out the league's official Instagram page by clicking here.
Tune in below to watch our full interview with Roger regarding the Dubai Little League!
Do you know of a telling sport story related to the Gulf youth? Share your news with Gulf Youth Sport by emailing us at info@gulfyouthsport.com.