Coach King (left) and Yates (right) celebrating with successful basketballers after an incredible win. Credit: Hoop Mountain Dubai
As the NBA playoffs are just around the corner, Gulf children of all ages are dreaming of one day showcasing their basketball skills by playing on a pro court. 
Through teaching youngsters the fundamentals of making layups, performing passing drills, and making shots, Hoops Mountain Dubai is guiding young basketballers to new heights in the popular game.
Furthermore, the youth academy's mission is to provide a welcoming environment to all pupils ages 5-18 looking to play in an authentic basketball experience.
Hoop Mountain first began in 1985 as a youth summer basketball camp in historical Boston, Massachusetts, in the USA, founded by Steve Gibbs. The movement has since hit a slam dunk by growing the game.
Now there are over 20 Hoop Mountain franchises established across the United States. In 2014, the sports academy took its shot to start the group's first international branch in the Gulf state of Kuwait.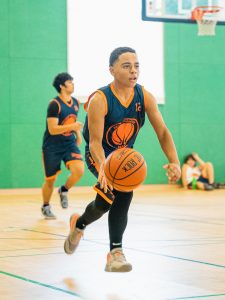 That's when the coaching duo of Julian King and Ryan Yates had the opportunity to become Hoop Mountain's second international flagship programme. This branch is now happily placed in delightful Dubai.
The two standout coaches have now made a strong influence on the game of basketball in the UAE community. Not only are the two business partners, but also have a deeper, unique bond that now spans over 15 years.
King was Yates' high school coach, and the pair would even go on to win a high school state championship together in Virginia. Both have strong basketball careers by playing university ball in America and gaining international experiences through the sport.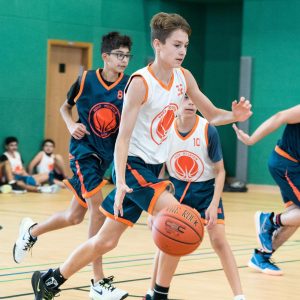 Additionally, this particular Gulf basketball academy is bouncing with many opportunities for the youth to up their game.
One key focus is on training sessions that consist of basic fundamental development, strength & conditioning.
Coach Yates further explained the programme's mission by stating, "We're here (in the UAE) expanding the game, trying to teach a very young crowd and demographic.
The benefits of basketball and also the culture around basketball is here… We are here building a family. It's a special organisation."
This sports organisation also passes along consulting, scouting, and recruiting resources to players looking to play at the next level, whether in the beautiful Gulf or abroad.
The club has also stayed true to its roots by continuing to host basketball camps and teaching the 101's on the court such as dribbling, shooting, passing, and more.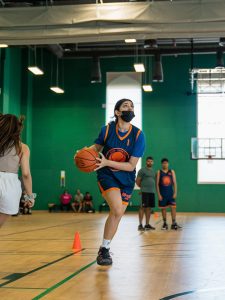 It wouldn't be a basketball camp without some fun competition as well. Eventful b-ball activities include dribble knockouts, three-on-three tournaments, and more exciting games.
Hoop Mountain doesn't just focus on basketball camps, but also provides "all sports camps. " These all purpose camps help young athletes learn essentials skills in various sports. Particular activities played include football, volleyball, dodgeball, and other popular sports.
We at Gulf Youth Sport are proud to be an official partner of Hoop Mountain Dubai. We both are looking forward this autumn to help present The World School Games Basketball Championships 2023.
If you are interested in learning more about the programme's fantastic on-court opportunities, click here!
Be sure to also tune into their podcast, called Bridgin' The Gap available on Spotify.
Do you know of a telling sport story related to the Gulf youth? Share your news with Gulf Youth Sport by emailing us at info@gulfyouthsport.com.