The EAFL (Emirates American Football League) is providing unique opportunities for youngsters of all backgrounds to play the iconic American sport at home and abroad.
The Local youth gridiron league EAFL (Emirates American Football League), is rushing into the sports seen in the United Arab Emirates. Recently the programme held its 11th edition of the highly popular Desert Bowl Championship in Dubai.
Not only is this the 11th Desert Bowl, but also the 12th year of the EAFL's existence in the Gulf. From a small grassroots start-up of children throwing around the pigskin in a local park, the league is now a premiere Middle East sports academy group.
Furthermore, the EAFL is a youth American football association that provides opportunities for both boys and girls in the Abu Dhabi and Dubai communities. Former Canadian Football League player and EAFL Founder Dustin Cherniawski gave further insights on the affiliation by stating,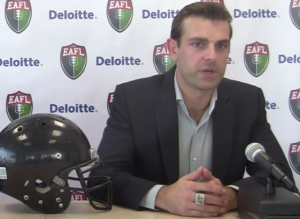 "It's an opportunity to provide Authentic American Football experiences for athletes age 7 to 17 who always wanted to try American football.
We're very much an academy-based sport now, so there are a lot of mixed nationalities in the league that are coming here to give it a shot.
They've always seen American football but always wanted to try it and we're that opportunity…It's a real international flair here, which is representative of the community here in the UAE.
It's a very diverse community and close proximity to a lot of (American football) programmes around the world."
It's no question the group has built a strong team atmosphere by welcoming different cultural backgrounds to play America's most popular sport. In fact, 52 different nationalities were included on a single-season EAFL roster a few years ago.
 Assembling together such a global team that represents Dubai's diversity isn't enough. The EAFL annually plays American football games abroad, represented by their Falcons international squad.
Since 2014 the league has participated in 47 matches across 17 countries, including six continents. Now the Falcons will fly high to Singapore soon to play a gridiron matchup and look to claw their way to victory. The EAFL is also seeing major growth in the sport in their travels abroad.
Many non-traditional American football countries like Lebanon, Egypt, Pakistan, and India have seen increase in youth startup groups. The up-and-coming star for the Dubai Barracudas Devon Meyers spoke of the remarkable opportunity of being teammates with fellow expats.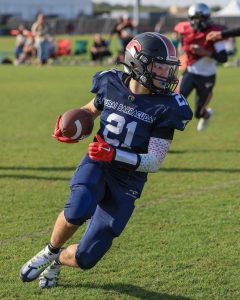 The Texas native stated "Honestly I love it, I love the diversity, the different backgrounds, you know I get to talk to someone who celebrates different holidays and traditions than me. 
I like learning that because I want to expand my horizons because hopefully in the future I can travel the world, I don't want to stay in just one area.
I was very fortunate to have moved to Dubai and experience this. So I feel the different kind of nationalities here has made us closer together because we know (each other) more and we can feel what they feel." 
However, the EAFL is most proud of hosting youth American football tournaments in the UAE, as it brings countries around the world to display their remarkable talents right here in the Gulf.
Additionally, this particular gridiron organisation has produced quality players time after time who now play in North America. One particular EAFL alumni is making some noise with his cannon of a leg in theWild West.
Punter Adam Babb is now booming punts in NCAA (National Collegiate Athletic Association) – Division – I American football for the mighty Arizona State University Sun Devils.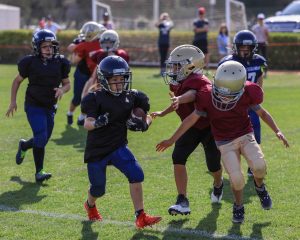 Many other former players have found success at the next level by playing University sports in the States. This growing list includes Ethan Trumpy and Isaiah Herrera continuing their football careers at the Division – II level. While EAFL great Wesam Sidani is currently representing Purdue University in rugby.
We at Gulf Youth Sport would like to congratulate the EAFL on a wonderful run so far, and we wish the league great success in the future!
Want to follow all the league's action? View their Instagram account here. For further information on the programme click here to visit the academy's official website.
Do you know of a telling sport story related to the Gulf youth? Share your news with Gulf Youth Sport by emailing us at info@gulfyouthsport.com.