Two ambitious six form pupils from GEMS Wellington created sport opportunities for students of determination from six schools to succeed in physical activities earlier this month.
We at GYS are happy to share Saher and Kanika's message about the creation of the Born to Sport Cup, which is an event that provides "inclusivity and diversity in sports." Saher and Kanika are student sports leaders at the GEMS Wellington campus who led the initiative to create the life-changing experience. The benevolent duo not only thought of this brilliant idea but also planned and executed the sporting occasion.
Here is the pair's insightful story explaining the wonderful Born to Sport Cup in detail:
"As passionate advocates for equal opportunities in sports, we have always believed that every individual, regardless of their background or ability, deserves the chance to experience the joy and benefits of physical activity. Unfortunately, this is not always the case, particularly for students of determination, who often face significant barriers to participation in sports. As a result, we felt an overwhelming sense of responsibility to help bridge this divide and provide a platform for these students to showcase their talent and ability.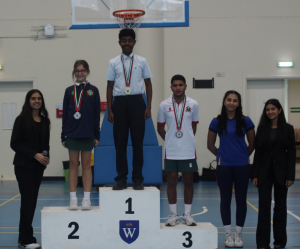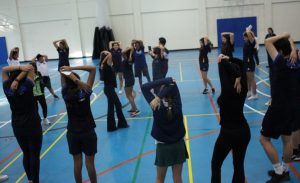 It was this realization that inspired us to host the Born to Sport Cup, a sports event exclusively for students of determination. The idea was born out of personal experience, as Sports Captain and Sports Leaders we witnessed first hand the struggle and lack of opportunities that these students face in the field of sports. It was then that we knew we had to take action to make a difference in their lives and to inspire others to join us in our journey.
The concept of the Born to Sport Cup is also deeply rooted in our belief in the transformative power of sports. Our passion for sports has helped us understand that sports can have the ability to transcend boundaries and bring people together, instilling values such as teamwork, discipline, perseverance, and respect. It is our belief that through sports, we can inspire positive change and cultivate important life skills that can benefit participants not just on the field, but in their personal and professional lives as well.
The Born to Sport Cup is an event that epitomizes our unwavering commitment to inclusivity and diversity in sports. Through this event, we aimed to provide a supportive and accessible platform for students of determination to showcase their athletic skills in a welcoming and inclusive environment. This event is designed to cater to the specific needs of each individual participant, ensuring that they have access to the necessary equipment, facilities, and support staff required to succeed.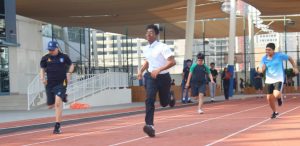 The idea of hosting the Born to Sport Cup was driven by the desire to promote inclusivity and diversity in sports. Through the event, we hoped to raise awareness about the importance of creating equal opportunities for everyone. By providing a platform for students of determination to showcase their skills and talents, we hope to inspire others to embrace inclusivity and diversity in sports, and to push for greater access to sports for all. Finally our biggest motivation was to see the students smiling and appreciating themselves as they received their awards. Witnessing their newfound confidence is truly inspiring and a testament to their hard work and dedication. This was truly an amazing journey, and helped us learn a lot. We can not wait to see how we further develop and pass this on next year! "
A job well done to both Saher and Kanika for designing and implementing an opportunity that fellow students will remember for a life time. We at GYS look forward to seeing the Born to Sport Cup continuing to growth in the near future!
Do you know of a telling sport story related to the Gulf youth? Share your news with Gulf Youth Sport by emailing us at info@gulfyouthsport.com.