It's been a fantastic start for Gulf schools competing in the exciting U13 and U15 World School Games 2023.
Students from across the Gulf are gathering together in sunny Dubai for the electrifying World School Games 2023.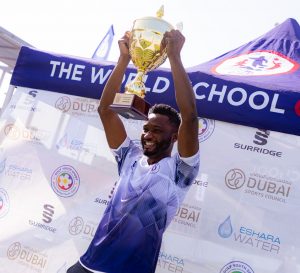 Day one of the games began with a surprise visit from a former World Cup footballer. Chelsea legend Mikel John Obi came to provide motivational words of wisdom to youngsters. Further day one festivities continued for students as they tested their athletic capabilities on the track and field.
JESS Dubai started strong by achieving double medals in one particular race. The Aitken twins' Tia and Emmie outpaced their opponents in the U15 Girls 1200m race, as both finished first and second, respectfully.
The inseparable duo continued to make headlines at the World School Games. This time the pair made a splash in day two swimming action at the world-renowned Hamdan Sports Complex. The Aitken twins then swam their way to the top two spots in the U15 Girls 100m individual medley. Emmie won the sibling rivalry this time by winning gold in the thrilling aquatic event.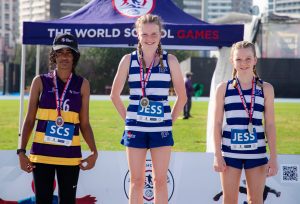 Continuing with World School Games swimming news, there was another particular student who fancied the number two. American International School – Riyadh student Zaid Alsarraji made a name for himself in the pool by winning two separate swimming events. First, he established himself as the undisputed U15 world champion in the 50-meter freestyle. Zaid's won his second gold medal by cruising his way past the competition in U15 100m individual medley.
It's been a fantastic all-around effort by Gulf pupils in the eventful U13 & U15 World School Games 2023 in Dubai. Every athlete should be ecstatic that their hard work in practice has finally paid off on the world stage.
Best of luck to every youngster heading into day three of football action in the World School Games!
We at Gulf Youth Sport are a proud sponsor of The World School Games. Learn more about the international organisation's sport opportunities by visiting here.
VIEW OUR PHOTO GALLERY BELOW FROM DAY ONE AND DAY TWO ACTION!
Click here to purchase photos from the U13 & U15 World School Games 2023 in Dubai!