St. Christopher's School – Bahrain takes on the competition in boys' volleyball action. Credit: C.O.M.M.S
The exciting BSME U19 Games 2023 had a wonderful showing in Abu Dhabi, with a variety of sports events being played.
Recently, the eventful multi-day BSME (British School Middle East) U19 Games 2023 took place on the BSAK (British School Al Khubairat) campus in the capital city of Abu Dhabi.
British schools travelled from far and wide in the Middle East to have their chance to stake a claim on winning the BSME U19 Games Championship. Pupils came from several countries, such as Bahrain, Kuwait, Oman, and the UAE, in order to represent their school in the event.
Additionally, the BSME U19 Games are a tri-sport competition where 12 schools aim to rack up as many points in each sport, contributing to the overall table point total. The school with the most combined points in the three sports played wins the BSME U19 Games Championship.
Sports were played by both boys and girls, with boys competing in football and volleyball matches. While girls pivoted into netball play, and kicking into football competitions.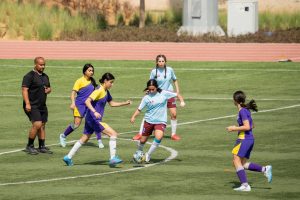 Football games for each of the girls' and boys' categories became a highly entertaining affair as unique talents were displayed by each school.
Further, the football final standings were highly intense, as only a single point separated first and second place for both gender categories.
However, thanks to the home crowd atmosphere, BSAK had the momentum to play great thus claiming the BSME U19 Football Championships in both the boys and girls groups.
Spiking into boys' volleyball, the strong sense of competitiveness in the BSME U19 Games remained in the gymnasium. Again, the top finishes in an BSME sport tournament came down to nail-biting match finishes.
Passing and digging through their competition, the island team St. Christopher's School Bahrain made a statement in their last performance. St. Chris' edged BSAK by one point in the final volleyball table points, earning 12 points to claim the marvellous 2023 title.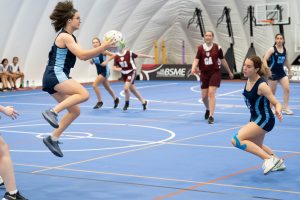 Now passing from BSME volleyball to netball news, the U19 girls had plenty of strong athletic showings and memorable moments.
One Abu Dhabi team was able to outperform its opponents in the entertaining netball action by playing with grit and determination. That's right, Cranleigh Abu Dhabi pushed past all obstacles to reach the pentacle of their success; a BSME Volleyball Championship trophy of their own.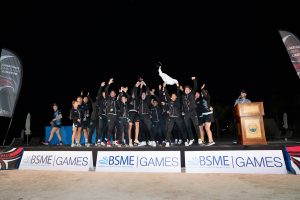 At the end of a well-played tri-sport tournament, only one winner could be crowned a regional champion. British International School Abu Dhabi came out on top with a strong total of 40 overall table points. Well done to a phenomenal team effort by British International School Abu Dhabi to earn the BSME U19 Games 2023 Champions title!
Through extraordinary efforts, there was also a tie for second in the overall BSME U19 table points. Both BSAK and St Chris' School – Bahrain scored 37 well-earned points to claim silver.
The event's director, Johnny Coombs, gave further insights into how competitive the BSME U19 table really was: "Atmosphere was excellent throughout the tournament, competition was fierce and margins for winning were small but it was a excellent competition."
| | | |
| --- | --- | --- |
| | BSME U19 Games 2023 Overall Points Table | |
| Place | School | Total Points |
| 1 | British International School Abu Dhabi | 40 |
| T – 2 | British School Al Khubairat | 37 |
| T – 2 | St. Christopher's School Bahrain | 37 |
| 4 | Al Yasmina Academy | 33 |
| 5 | Cranleigh Abu Dhabi | 32 |
| 6 | Brighton College Abu Dhabi | 31 |
| 7 | British School Muscat | 28 |
| 8 | British School Al Khubairat Lions (Guest) | 22 |
| 9 | The British School of Kuwait | 18 |
| 10 | The New English School Kuwait | 14 |
| 11 | Kuwait English School | 11 |
| 12 | English School Fahaheel Kuwait | 9 |
Well done to each school for an amazing showing of young athletic talent in the BSME U19 Games 2023!
Do you know of a telling sport story related to the Gulf youth? Share your news with Gulf Youth Sport by emailing us at info@gulfyouthsport.com.