DASSA Tennis 2023 was in full swing earlier this week by tipping off U14/16 Boys' and Girls' Singles play in beautiful Dubai.
To say the start of DASSA Tennis was eventful was an understatement, as over 163 matches had taken place earlier this week.
Further, students were eager to represent their respected schools in the exciting singles event hosted by Kings' School Dubai's sports venue.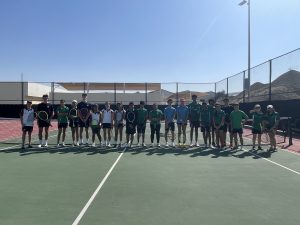 Additionally, the DASSA Tennis Singles event wasn't just any ordinary tournament.
Well-recognised nationally ranked players would compete in the highly anticipated tennis contest.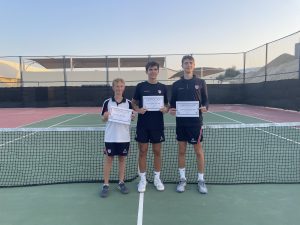 Leading to an excellent standard of play on the court for Dubai pupils. The youth looked ready to make a statement in their upcoming play on the court.
One school came prepared to compete in the DASSA Tennis Singles action. Yes, Dubai College became well represented in the U16 Boys' Singles. Three of the school's tennis players moved on to the final stage.
It then became a challenge for Dubai College to pick sides in the grand finale. The school had two of it's students face off for the DASSA U16 Boys' Singles Championship title.
Smacking his way through a highly intense match-up, Alex Mantzavinatos defeated his teammate Maximilian Wessels in a strong performance. Furthermore, Alex would take four games to one in a unique title match-up against Maximillian.
Flipping to the girls' court, a thrilling series of matches had happened in the U14 DASSA Singles play.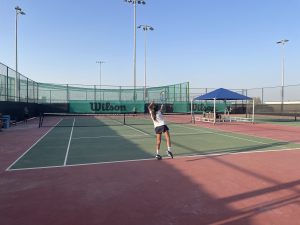 However, one young tennis superstar from Dubai's Motor City made a name for herself this week.
That's right, Xinru Zhong of GEMS Metropole School came out swinging, leading her to the U14 Girls' Singles Finals Championship.
Through hard work and determination, Xinru made it past Dubai College's Ela Gumustekian, winning 11 games to seven, crowning her to become a DASSA Champion.
Coaches were quite amazed at how well the tennis event went for the Dubai youth. Jebel Ali School PE teacher and tennis coach George Spurling spoke highly of the sporting opportunity.
Following the tennis experience, Mr. Spurling gave high praise to the DASSA event stating, "I was so impressed with the students over the last two days, polite, mature, independent and of course, great tennis players – they represented your schools so well. Lots of nationally ranked players out playing, and again an excellent standard as we got through towards the finals. A huge thank you as well to the Kings team for hosting."
Well done to every tennis player that participated in the court action earlier this week.
We look forward to reporting on the DASSA U12/19 Boys' and Girls' Tennis Singles soon!
Do you know of a telling sport story related to the Gulf youth? Share your news with Gulf Youth Sport by emailing us at info@gulfyouthsport.com.