Repton College Dubai takes on Dubai College in a thrilling match this past week in Abu Dhabi. Credit: British School Al Khubeirat
The exciting action of BSAK 7s football made a sensational return to the world-renowned Zayed Cricket Stadium in Abu Dhabi.
Previously, the BSAK (British School Al Khubairat) 7s tournament held local school rugby and netball competitions in term one.
Finally, a football cup was held for the tri-sport event this past week at the famous Zayed Cricket Stadium.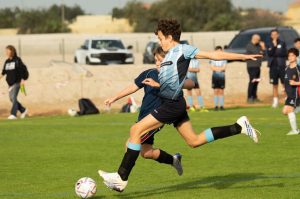 Not only were pupils looking to be victorious in their respective sport, but looking to add overall points to the BSAK 7s Tri-Sport Tournament Table.
Term one overall table points carried over to term two in BSAK 7s play.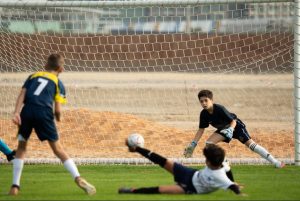 Many competitive rugby and netball competitive matches were played contributing to the points.
However, it would come down to the football pitch to crown an overall tournament winner.
Through many crucial football matches being played, one school guided their way to becoming BSAK 7s 2022-2023 Season Champions.
For the first time in School history, JESS (Jumeirah English Speaking School) Dubai stood proudly on top of the podium.
Leading JESS sport to the table of the table was it's well-earned 109 total points.
Following second on the podium was the well-respected DESS (Dubai English Speaking School) sport.
Likewise, Dubai College was awarded an honourable spot in the table, finishing third in the tournament.
BSAK Tri-Series Overall Tournament Points
| | |
| --- | --- |
| Jumeirah English Speaking School – Dubai | 109 |
| Dubai English Speaking School – Dubai | 92 |
| Dubai College | 85.5 |
| British School Al Khubeirat – AD | 56.5 |
| Kings College – Dubai | 28 |
| NAS Dubai | 27 |
| Cranleigh School – AD | 23 |
| Arcardia | 9 |
Director of Sport at BSAK, Johnny Coombs was quite pleased with the success of the event. He went on to say, "It has evolved into a superb tournament across the three sports and is extremely competitive between schools. It was wonderful to see a number of new schools make the podium this year with some emerging schools picking up some silverware."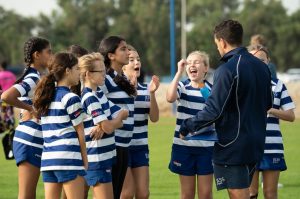 Therefore it was a great effort from each school that participated in the three sporting events.
Finally, we at Gulf Youth Sport wish all students the best of luck in term two!
Do you know of a telling sport story related to the Gulf youth? Share your news with Gulf Youth Sport by emailing us at info@gulfyouthsport.com.