NBA legend Tracy McGrady breaks out a group of young basketballers eager to learn from him. Photo credit: @aldar_academics Instagram account.
The exciting Junior NBA Abu Dhabi League is returning to the Gulf stronger in 2023 with double the amount of teams on the court.
Youth basketball will start 2023 off in exciting fashion as 30 Junior NBA teams will now compete in the Abu Dhabi League. Leading to a significant growth in player participation from last year.
Since there were only 15 active teams competing in the inaugural season in 2022 in basketball play.
With more teams involved, the number of kids participating in the upcoming season has increased in great numbers. Now over 450 youngsters will be apart of the Junior NBA experience.
Leading Basketballers spanning ages from 4 to 11 to take on the challenge of reaching the tournament finals.
The 2023 league campaign will spring into action come 21st January, with qualified teams advancing to the playoffs on 12th March.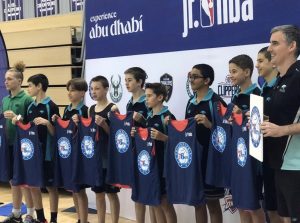 Not only is the 2023 season off to a strong start before the first tip-off, but it's becoming quite an entraining atmosphere with off-season festivities.
Recently, youngsters felt what it's like to be a true professional basketballer as their names were called at the Junior NBA Draft held at NYU – Abu Dhabi.
Furthermore, the Gulf youth witnessed the chance to feel like their NBA role models, as teams would be assigned kit according to a specific NBA team.
It wouldn't be the full NBA experience without having former players present. Making it the perfect opportunity for two former NBA players came to make some noise at the draft.
Leading former Team Argentina basketballer Luis Scola and Basketball Hall of Famer Tracy McGrady to become involved in the celebration movement.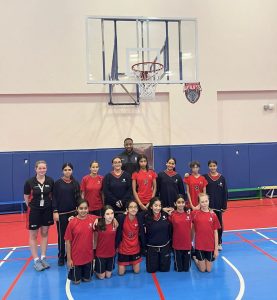 McGrady wouldn't just attend the youth basketball draft at NYU Abu Dhabi.
He further made a visit to a local school in the community too.
West Yas Academy had the distinct honour of hosting the NBA legend on campus.
McGrady made a huge impact on the school by holding an inspirational presentation to students. He would speak about the importance of maintaining a healthy lifestyle.
Later the former NBA All-Star paid a visit to the West Yas Wolves basketball teams.
Both the girls and boys teams were thrilled to learn from one of the best to ever play the game.
We at Gulf Youth Sport looking forward to seeing young basketballers in action in the coming months!
Do you know of a telling sport story related to the Gulf youth? Share your news with Gulf Youth Sport by emailing us at info@gulfyouthsport.com.