Young Dubai runners went the extra mile by representing their schools in the first-ever DASSA Primary Cross Country meet at The Sevens.
Overall the initial idea behind such an exciting new running invitational is to promote running activities to primary-age Dubai children.
Since hearing about the opportunity to compete in the two-day distance meet, 46 local schools were delighted to accept the challenge.
Thus leading schools to be well represented in strong numbers in DASSA (Dubai Affiliated School Sports Association) Primary Cross Country. More than over 1,000 students became determined to run for gold in running activities.
The exciting new running meet would be held at The Seven Stadium from last Monday and Tuesday.
Furthermore the series consisted of three electrifying events which included four-person relays where each team member ran 1k. Next came the single-person running races, first the thrilling developmental 1k event, and then the longer competitive 2k race.
While at the venue, the top three finishers of each race would be praised highly on the podium. Leading each top runner to proudly wear the distinguished shining medal they rightfully earned.
Once the inaugural meet ended, Amy Murphy, head coach of primary age athletics at JESS (Jumeirah English Speaking School) Dubai, was happy to explain her team's wonderful experience:
"I just want to say a really big thank you to SuperSports [UAE] who have been fantastic. Warren and his team have supported us throughout this series, and have made it really, really, really, really smoothly, really professional event for the children and also a really big thank you to The Sevens [Stadium] forhosting us here at this fantastic ground. The support of all the staff on the parking ad facilities has been amazing and they've made it really really enjoyable."
Finally, all the youngsters who ran in the multiple-day Gulf series should be proud of their efforts. Well done!
You can view the entire photo gallery of the 1st DASSA Primary Cross Country meet here.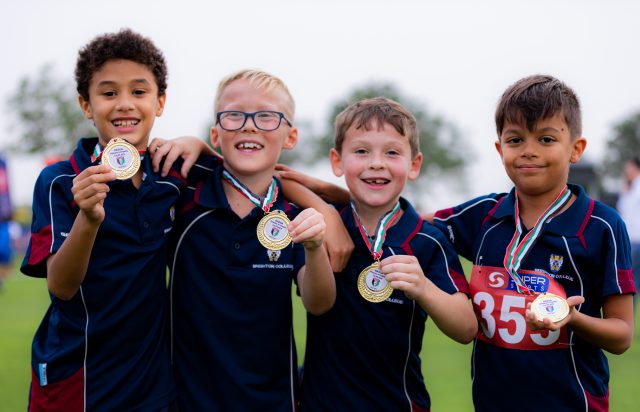 Do you know of a telling sport story related to the Gulf youth? Share your news with Gulf Youth Sport by emailing us at info@gulfyouthsport.com.