Gulf football kicked off 2023 with the newly formed ADISSA Girls Select faced JESS U14 Girls Football team in an exciting Gulf-friendly match.
It was the perfect time to play a football match in the new year, as sunny conditions and clear skies were in store at the Dubai Sports City pitch last Friday.
The ADISSA (Abu Dhabi International School Sports Association) Girls Select team recently was created by the organisation's chairman, Matt Pollock. His ultimate objective being to assemble an elite pool of young footballers from Abu Dhabi.
Coach Pollock explains the steps taken to create a community all-star team in order to play their first exhibition match, "We did a trial back in Abu Dhabi over a couple of weeks and picked a team of girls and brought them up here to play against JESS in a friendly match."
The local Select team had a tough match-up for their first game. That being JESS (Jumeriah English Speaking School) U14 Girls football team, a crew which included DASSA (Dubai Affiliated School Sports Association) Girls Football League champions on the roster.
However, ADISSA Select's phenomenal start through tactical play and execution was everything they hoped for in the January fixture, as the girls scored two unanswered goals.
Later Coach Pollock would credits the opening goal from Mother Nature being on ADISSA Select's side. He went on to say, " Our first goal was scored by Ainhoa Chazalmartin from Lycee Francais, this was a long range effort aided by the wind that we had at our advantage in the first half."
The next scored goal from ADISSA Select would be an absolute banger, as Ava Gaskin fired the ball first time past the keeper from the edge of the pitch.
JESS Sport wouldn't let their opponent's strong start diminish their high confidence. Their striker would have absolutely brilliant goal to cut ADISSA Select's in half.
After the final minutes were played, the ADISSA Select Girls came out victors, winning 2-1.
Coach Pollack, was quite proud of how his squad performed in the exciting exhibition game.
"Yes, a fantastic game of football. Really spirited. Some great play by both teams…Two to one, but it was really close and it really could have gone anyway.
Looking forward to more opportunities of playing against other teams and other sports in Dubai.
So if anyone is out there and listening and wants to get in touch, let's get a game organised and looking forward to playing against a DASSA Select team as well at the end of February…Pleasure to be here, thanks to Dubai Sports City and JESS."
From almost making a near comeback to reaching a draw, JESS Sport's efforts shouldn't go unrecognised. Coach Matt of the Jess U14 Girls team praised his team's overall performance.
"Girls played really well today. Throughout the last previous term, both teams won the league. So it was really good for them to go and actually playing in some competition that we challenged them and for them to ask us to play against them. Obviously, that being the best girls in Abu Dhabi with our girls.
It was a really good privilege. For the game we started off quite poor. Couple of errors cost us two goals, but we really got into the game. Our Striker scored a fantastic goal. Getting 2-1 is a harsh result. I think it's fair for them and it was really good work for them."
Congratulations to both teams for the tremendous effort and teamwork displayed in the new year. We at Gulf Youth Sport wish both squads the best of luck in 2023!
You can view the entire photo gallery of the recent friendly match here.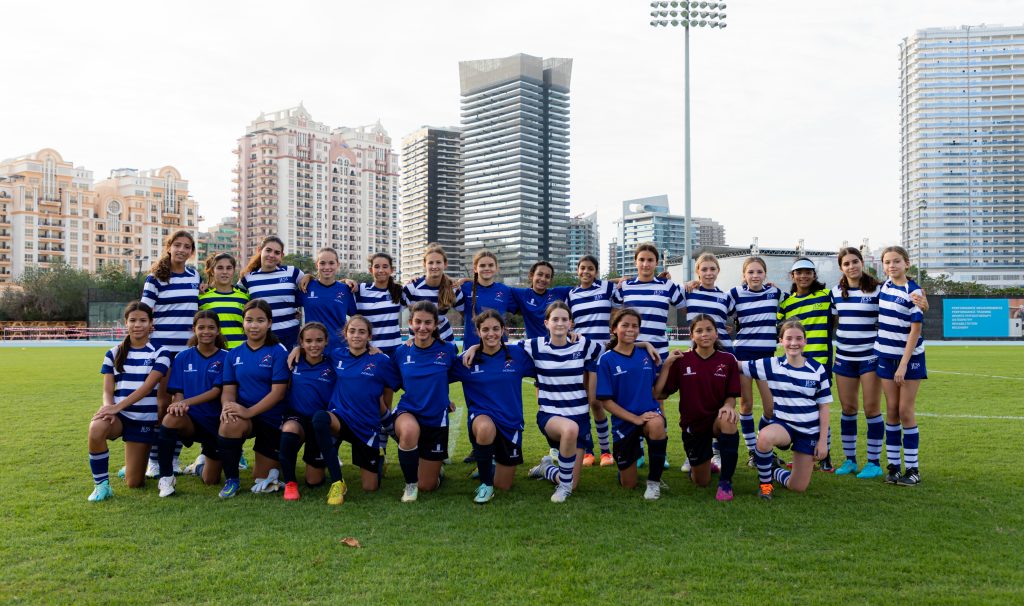 Do you know of a telling sport story related to the Gulf youth? Share your news with Gulf Youth Sport by emailing us at info@gulfyouthsport.com.