The World School Games (WSG) Basketball Championships made a
sensational
return to the
beautiful Persian
Gulf coast. Teams across the Middle East hooped it out at the prestigious New York University, Abu Dhabi earlier this month.
Excitement was filling the courts as players and coaches were chasing a championship title. Additionally, it was great to witness every team give their all during the three-day tournament in Abu Dhabi.
A squad that went above and beyond in the WSG Basketball Championships was British International School Cairo (BISC). The school won three out of four age categories while in the U.A.E. Regarding play, they also became the first Egyptian School to participate in the autumn classic tournament.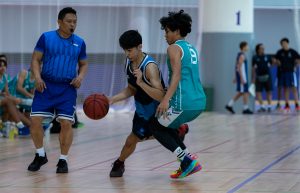 Having home-court advantage was a blessing for one Abu Dhabi school. Raha International School Raptors' U13 boys' team efforts led to a championship on their own soil. Raptors' Jan, explained his joyfulness during this moment, "this is the tournament of fun, we're out here to have fun."
Furthermore, girls competing in WSG Basketball had an incredible time as well. Safa Community's Kaitlin said with pride, "they were challenging games, the players were skilled, but it was a fun."
Students from around the gulf weren't the only ones with eagerness to be back in the tournament. Andrew Cook of the World School Games organising committee was happy to see the return of schools playing in the big tournament in Abu Dhabi. 'It's been a great weekend here at NYU Abu Dhabi for the second edition of the World School Basketball Championships.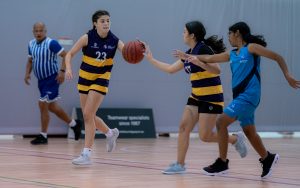 We had 35 teams from 16 schools around and beyond the GCC in attendance and, like in 2019, we were blown away by the standard of competition….the kids put on an amazing show for us and it was exhausting just watching them!
Special thanks to NYU for hosting the event, and to our Technical Directors, Julian King from Hoop Mountain, who helped us so much in the run up to, and throughout, the event.
We're already excited to welcome more schools to Abu Dhabi for the 2023 event next November – every time we run an event we identify ways to increase the wow factor and improve the experience for players, coaches and parents, so we've got some big plans in the works for 2023."
A big congratulations to everyone's involvement in the gulf basketball action. It was a privilege to see you all back on the court with great enthusiasm.
The best place to find the results & winners will be on the tournament app, which you can download by searching 'WSG Basketball' in the app store.
To learn more about upcoming World School Games Events click here.
Have your school's sports news featured on Gulf Youth Sport by having them emailing info@gulfyouthsports.com.