For young people in Dubai, a visit to the beach is often second nature. With so many beautiful and accessible beaches, and with an array of different water-based activities on offer seven days a week it can be easy to feel laid back about stepping into the water.
Not so many youngsters are equipped to know what to do if they get into trouble while in the water, and fewer still would know how to react if they saw someone else in danger.
On Sunday morning Viking Surf Sports member and assistant coach Anton (15) came to the rescue of a member of the public who was struggling off the coast of NessNass beach – he spotted the danger and reacted before the adults, giving the individual the best chance of safety.
We caught up with Anton to recount his story and share his act of bravery and maturity down at the beach on Sunday.
Describing the incident which took place at the beach on Sunday, Anton says he needed to act quickly to ensure the person at risk was given the best chance of being taken to safety.
"Before the coaches briefing started, one of my friends (a coach) pointed out that there was splashing in the water in the distance. Next, I saw a hand rise from under the water.
"I ran and grabbed the nearest board, then ran to the water and paddled out to the man as fast as I could. I got there quickly and as I approached the man, I realised that his head was bobbing in & out of the water & I knew I had to act fast.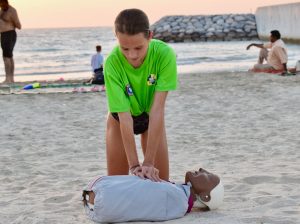 "The man was struggling to stay afloat & looked fatigued, so I decided to put the board between me and him so that I could keep myself safe, in case he tried to grab me and pull me into the water. I told him to hold on to the board handle and slow his breathing so I could get him to safety.
"While this was happening, a Dubai Municipality lifeguard and another Vikings coach, also got to the man & we all took the man safely to shore."
As an active member and coach at Viking Surf Sports, Anton has been trained in many areas which include water safety and effectively using a board. He explained lots of these skills came in handy at the weekend.
"In Vikings, I have learned a lot of skills which include board paddling, water entry with a board, how to get a person on your board, CPR, identifying when someone is in danger in the water, swimming in the surf.
"These skills all allowed me to know what to do and how to execute it safely on Sunday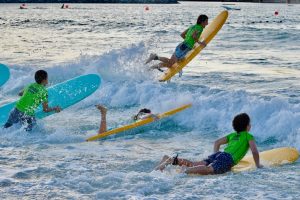 when they were needed most. They were very important because I have been able to apply the skills I have learned to save someone's life. That feels really good."
Following his heroics at NessNass on Sunday, where Anton came to the rescue of a struggling swimmer, the youngster believes that knowing how to stay safe in the water is something everyone should learn.
"Learning how to swim & stay safe in water is a very important life skill. The beach is for everyone and it can be a lot of fun.
"I would recommend that anyone who is interested might consider joining a surf club to learn how to stay safe in the water & have fun at the beach. I've made a lot of good friends at Vikings & have learned so many valuable life skills."
A huge well done to Anton for his reactions from everyone at Gulf Youth Sport!