Rocco Napoli is one of Dubai's hottest football prospects. The 11-year-old, who originally hails from Scotland, is part of City Football Club and professional side Al Nasr, with regular invites to train with Scottish champions Celtic any time he is visiting family in his homeland.
Speaking to Gulf Youth Sport about his aims and ambitions within the football world, Rocco is focussed on improving on and off the pitch with his schooling a hugely important part of his weekly routine.
Rocco said: "I really want to continue to do well academically at school and with football so one day I can be a professional footballer. If that's not possible, I would like to be involved in football is some capacity or possibly a sports journalist."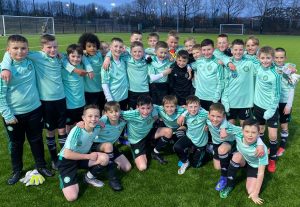 Rocco works very hard on the pitch to make sure he continues to get better alongside his teammates at City FC and Al Nasr, he believes his hard work means that he is giving himself a great chance of becoming successful.
"I think my desire and work ethic has allowed me to keep improving. I'm really committed to my training schedule, and I train or play football six days a week.
"I'm really thankful to all of my coaches – I enjoy playing for Coach Soufien at Al Nasr and Coach Lee at City FC and playing alongside all the boys in these teams."
A huge well done to Rocco from everyone at Gulf Youth Sport on being named this week's wonderkid – keep up the good work young man!