For many students across Dubai, UAE and the Middle East, lifestyle changes result in moving to a new country to join a new school – leaving behind friends and family to embark on a new adventure.
With some of the best sporting opportunities in the world, Dubai offers young athletes the chance to improve in their chosen field whilst kickstarting friendships and helping them to settle into a new environment.
Murray Logan's story begins in Scotland, where the young football fanatic represented his school and the youth ranks of professional side St Johnstone FC. In recent months Murray's family have relocated to Dubai, where he now attends Kings' School Al Barsha – but rest assured his passion for football has not faded since his move to the UAE.
A talented young midfielder, Murray plays his club football for City FC under the guidance of coach Adam Burrows. He is grateful for the help offered to him by everyone at the club – as well as sprint coach Costa at Ultimate Athletics – and he is working hard to become the best version of himself on and off the pitch.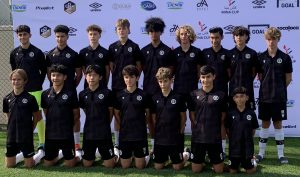 Murray said: "I know that Adam is always there for me when I need help and support from him. I train Monday, Tuesday, Thursday & Friday with City and play YFL on a Sunday at Dubai Sevens. On a Wednesday I work with Coach Costa at sprint training where I do my speed and agility training, this is the part of my game that I am working very hard on at present.
"I also undertake a gym routine designed by Coach Costa to help my speed and agility which I really enjoy. Saturday is a rest day for me and I spend time with friends and family normally."
With lots to look forward to on the pitch, Murray has set his sights on a career in professional football but remains aware of the importance of his education – his feet are firmly on the ground as he continues his Dubai journey at Kings' School Al Barsha.
"My goal is to be a professional football player. I would like to go to America and participate in a football scholarship programme and study business when the time comes but for now I am happy developing in school at Kings and with my coaches at City FC & Sprint training.
"Whilst becoming a professional footballer is my ultimate goal, I also realise that I need to work hard at school and university whilst giving everything I have to achieve my dreams. If a career in football doesn't work out for me I know that I need to have a good education behind me to have the best chance of success on or off the football field."
Head of Secondary PE at Kings' School Al Barsha, Mr MacKinnon says he's looking forward to seeing what's in store for Murray as he develops on the field and in the classroom.
"Murray has made a very big impact in a short time at Kings'. He is a fierce competitor on the sports field and a popular student around the school. He has an extremely bright future in sport and I can't wait to follow the rest of his journey!"
As part of the Kings' Al Barsha World School Games squad in March, Murray collected the boys football MVP award after some excellent performances helped his side to a second place finish in the U15 tournament at the Sevens – whilst playing against opposition teams a year older than him!
Murray is hugely thankful for his dad's input in his football career, and he credits him with playing an important role in his success to date.
"My dad has been my biggest influence so far, he played professional football and has experienced the journey. After matches he always positively but thoroughly helps me analyse my performances which I fell helps me understand the game more.
"We always discuss the aspects of the game that went well and also the points that didn't go so well and how I can take those points into improving my performance in my next match or at training. I also benefit massively from my dad's experiences good and bad in football which is great, he always gives me his thoughts but lets me make my own choices to help me progress and a footballer and a person which I really appreciate.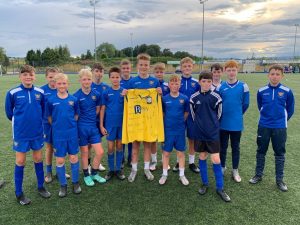 Murray also has great respect for the coaches at old club St Johnstone who helped mould the midfielder into the type of player – and young man – that he is today, with coach Toni still keeping a keen eye on how he is progressing in the sun-soaked surroundings of Dubai.
Murray said: "My coaches Toni Smith and Gerry Crainey at my old club St Johnstone FC in Scotland also had a massive impact on my development, in my time at Saints I learned lots about how football should be played, both of these coaches had a massive impact on my development especially during the COVID pandemic where my ball work and control improved massively due to the level of dedication they had to help my team mates and I navigate through the challenges of that time.
"I used to attend one to one sessions weekly with Toni and cant thank him enough for everything that he done for me in my time with him, he still checks in with my dad to see how I am doing which tells you everything you need to know about his commitment to his students."
Everyone at Gulf Youth Sport wishes Murray the very best of luck as his first year at Kings' Al Barsha comes to and end – we look forward to following his football career!
If you know a talented young athlete who deserves to be in the spotlight as part of our 'Wonderkid Wednesday' series, please let us know by emailing info@gulfyouthsport.com.