A Dubai fitness centre is launching a search for the city's fittest young person throughout the month of Ramadan with a series of challenges lined up.
The event is being organised by WellFit in conjunction with the launch of their brand-new Youth High Performance Programme, an ambitious junior high fitness plan aimed at "building better movers, better athletes and better performers."
The first stage of the competition will see participating schools organise a bleep test between 11th and 22nd April with the top students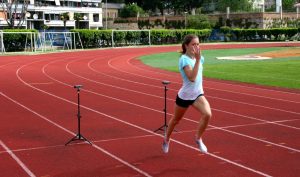 between 10 and 19 years old being invited to the grand finals to be held at Wellfit's flagship gym in Jumeirah Village Circle.
The Qualifier: 11 – 22 April
Phase one is very simple – we want you to run a bleep test (
using this soundtrack
) during your PE lessons with students (aged 10+).
Once you've completed the test, simply log your student's scores using this 
Google Form
 before 5pm on Friday 22 April.
Age Groups
Year 5 & 6 (Boys & Girls)
Year 7 & 8 (Boys & Girls)
Year 9 & 10 (Boys & Girls)
Year 11 – 13 (Boys & Girls)
The top-ranked boy and girl in each age-group will be rewarded with a 500dhs voucher to be spent on New Balance shoes, whilst schools with the highest participation rates and average score will also be recognised for their efforts.
Every student who takes part in the qualifiers will also receive a free one-week pass to Wellfit.
The finals will see the top 20 athletes in each age-group take part in five challenges, with each challenge focusing on a specific physical skill.
Athletes will need to demonstrate their overall strength performing timed dead-hangs, their speed with a 30m sprint using speed gates, their endurance with a 500m row, their power by demonstrating standing broad jumps, and the speed and accuracy of their reactions with a BlazePod reaction challenge.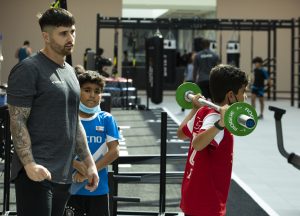 The top three athletes in each age-group will receive:
1st placed boy/girl – Six-month Scholarship to the YHPP programme, plus winner's goody bag.
2nd placed boy/girl – Three-month Scholarship to the YHPP programme, plus runners-up goody bag.
3rd placed boy/girl – One month Scholarship to the YHPP programme, plus third place athlete's goody bag
Dimitri Koutsoubakis, CEO of Wellfit said: "Wellfit's purpose is to bring immersive workouts into people's lives and enable active living for everyone. The Youth High Performance Programme is aimed at developing athletes who are looking to enhance their fitness levels and performance using best-in-class technologies and immersive training methods.
"Youth training helps develop confidence, a feeling of autonomy and a positive body image and we are thrilled to offer this ground-breaking programme to nurture young individuals on their fitness journey."
At Gulf Youth Sport we will be updating bleep-test results and bringing you all the latest as the finals get underway so stay tuned for all of the latest challenge news in the quest to first Dubai's fittest young people!
For more information on the YHPP programme and challenge, visit https://wellfit.me/en/juniors-sports/.