The UAE's first fully female owned football club has kicked off 2022 with a bang as their girls' youth academy has been established.
Onyx FC is the first fully female owned football club in the UAE and is the first club to provide football for females at all levels, from the youth programme to the women's game. Founded 2021 by four Dubai-based women from the UK and UAE, the club has grown with the introduction of a girls' academy in 2022 to support young players get into football.
The club has an 11-a-side team which is competing in the very first UAE Football Association (UAE FA) Women's League – the top flight of women's football in the UAE and the first time a league such as this has existed in the Emirates.
Onyx FC also has three separate 7-a-side teams that compete in the Arabian Women's Football League (AWFL) and the Expat Football Association (EFA), providing competitive and fun sport for women of all abilities.
Their hugely popular Monday social sessions are AED 30 per person with no commitment, attracting many of Dubai's busy women each week. From mums, university students and busy professionals to those looking to get fit, there are over 100 women who take part in Onyx FC's social training sessions.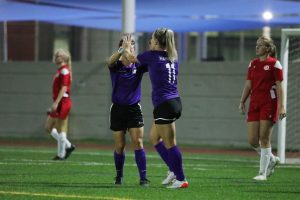 The highly qualified coaches are UEFA licensed and have professional playing experience including in the UEFA Women's Champions League, meaning the environment is safe and fun for all.
The Onyx FC Founders are pleased to see the already exponential growth in women's football in the UAE. Heralding from the UK and the UAE, the four founders have a real passion for the game and creating opportunities for females in the UAE.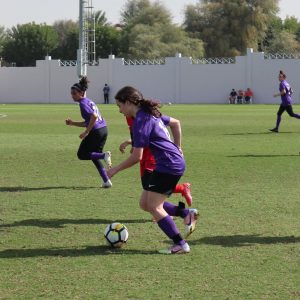 Co-Founder and Coach Lauren McMurchie said: "We have seen such an increase in our women's social football programme which is fantastic. We know there are so many expats in the UAE, so to be able to bring people together to make friends and enjoy sport is a great thing for us.
"We are also competing at the highest level possible in the UAE and we are working on providing a true pathway for girls to enjoy football throughout their schooling life and being able to take it forward into their adult lives.
"The girls' programme has just begun at three venues across Dubai and we encourage any girls interested in the support to get in touch and join our ever-growing community."
Co-Founder Georgia Adderley added: "We have seen so many women from different, ages, backgrounds and religions come together each week to enjoy football. We are incredibly pleased to bring together Emirati and expatriate women to form the community that is Onyx FC.
"Our belief system is centred around community and female empowerment, and we are already so proud of the strong community we have built in such a small time. We are open women and girls of all abilities and welcome any females who wish to join.
Adderley continued: "Our name comes from the Onyx gemstone which is black and represents strength, wisdom, and authenticity, which are some of our core values as a club. Our main colours are purple and also black as it links to the UAE flag and 'defeating enemies' which we thought was quite a nice link to the game of football and the country we love."
Onyx FC offers a number of women's and girls' football programmes. Those interested are encouraged to get in contact with the club.
Email: info@onyx-fc.com
Instagram: https://www.instagram.com/onyxfc_/