A seven-year-old Dubai athlete has recently broken the age world record for running 3,000 metres after an incredible show of determination and self-pride.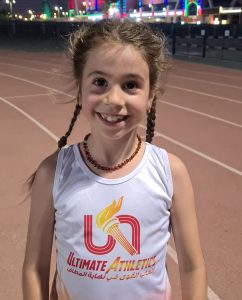 Mia Hobeika, an Ultimate Athletics athlete and student of Repton Al Barsha, recorded a time of 13:02.4 just one day before her eight birthday earlier this month to claim the record which has stood since 2019.
The previous record for 3,000 metres run by a seven-year-old girl was a time of 13:02.9 completed by Dutch youngster Celine Struijvé in October 2019.
Mia loves to run and she can regularly be seen finishing in podium positions at Supersports races and Ultimate Racenights, but she wanted a bigger challenge.
The day before her birthday, paced by her Father and timed by a coach from Ultimate Athletics Mia ran the 7.5 laps of Dubai International Academy Al Barsha Track with the support of her coaches and club members.
Mia's determination and fitness levels meant she had enough energy for a last lap sprint, which allowed her to beat the record by just 0.5 seconds with an impressive time of 13:02.4.
Everyone at Gulf Youth Sport congratulates Mia on her excellent achievement – her big smile says it all! Well done Mia, keep chasing your dreams and have fun doing it!