A set of five-year old Dubai-based twins did what very few humans have ever done last week; cross the finish line ahead of the fastest man in history, Usain Bolt.
Safa Community School students, Vincent and Isaac Brady, spotted the eight-time Olympic champion during his recent visit to Expo 2020 and decided to challenge him to a foot-race.
Despite the crowds, the twins managed to catch Bolt's attention with a combination of worms, flossing and body popping and they were subsequently invited to join the great man in his golf cart, where they traded fist bumps and friendly banter ahead of the 'Run the World' family fun-run.
When asked by Bolt if they were taking part in the charity race, the boys threw down the gauntlet, explaining that they were indeed taking part and they were going to beat him!
True to their word, the twins proceeded to run the entire 1.45km race without stopping and incredibly managed to reach the finish line just before the Jamaican legend (admittedly Usain's route may have been slightly more congested than theirs).
To rub salt in the wounds, the boys greeted Bolt upon his arrival at the finish line with his trademark 'Lightning Bolt' pose.
Speaking exclusively to Gulf Youth Sport following their victory over the double world-record holder, both Vincent and Isaac were firmly in agreement that they were now officially "the fastest boys in the world."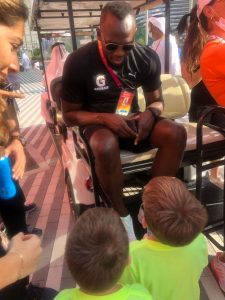 The twins' father, Michael, said he was proud of his boys for their performance although he did speculate that Usain
may not quite have been going full speed.  He also described Bolt as "an inspiration" and said the chance meeting was "an amazing experience that the boys will never forget."
Asked about their chance encounter, Isaac said it was "super cool to meet Usain Bolt", whilst Vincent said Bolt was "a funny guy."
The Family Fun Run was organised by Gatorade/PepsiCo and the Sports, Fitness and Wellbeing Hub at Expo 2020 and raised funds for Al Noor Rehabilitation & Welfare Association for People of Determination.