Hartland International School has a pair of seasoned travellers in its midst with twins Zalina and Amina Kubataeva key features on the international rhythmic gymnastic stage.
Although aged just 12, we chatted to the pair about their extensive experience and how much hard work goes into their sport as they put in dedicated training sessions at Dubai Youth Olympic School of Rhythmic Gymnastics.
How did you first begin gymnastics?
Zalina
: 
We began at 7 years old which is pretty late for a rhythmic gymnast as usually they start at the age of 2 or 3!
Amina: As Zalina said, we started at 7 which was quite late but as we had a good body and mind we got in the hang of it.
Can you tell me a bit about your gymnastic experience?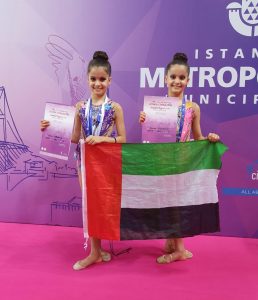 Zalina
: 
The experience in rhythmic gymnastics is not as easy as it looks I can say. A simple rotation or a throw can multiple months and sometimes years to do. Talk about a whole routine!  We compete in many different competition such as national competitions, international competitions and competition between ourselves.
Amina: Gymnastics is a beautiful and graceful sport but the amount of effort and hard work put into it is nowhere near graceful, when I first started gymnastics I hated it! I always hoped I was late and wanted nothing to do with it, but a new coach arrived and started training as professionals which grew my love for gymnastics.  We compete in international competitions, national competitions and inter competitions (competitions held by the school).

What do you love most about rhythmic gymnastics?
Zalina: 

I love rhythmic gymnastics because of the grace of the sport and the delicacy that is needed to complete every movement. (Kind of like ballet!)
Amina: the reason I love gymnastics is that the sport is very creative and you can represent yourself through dances and routines.
What's the best thing about competing in the sport with your sister?
Zalina
: 
Competing with my sister shows me 'how to lose'. For example if I take a clubs routine and on the competition my sister competes better than me I learn how to lose whereas if I was put into an international competition and I have dropped a club or didn't have a full split on a jump or balance that concludes to me not getting a high mark I won't come sobbing to my coach or my mother when I haven't been placed in the top trio.
Amina: Competing with Zalina shows me how I can get better and improve my skills, it also shows me that I can never give up and have to the feeling to lose unlike if I was the only child I would usually win because I had no one the compete against which means in real competitions it'll be harder.
What's your favourite competition or country to compete in?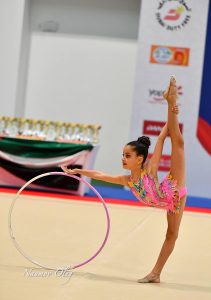 Zalina
: 
Favourite competition? Oh, this is going to be hard! I definitely loved Germany, it was my first international competition and I was 8 years old. I was fifth place- pretty good for only training one year! I also loved Georgia as Amina and I were crowned Miss Charm and we got these beautiful tiaras and big stuffed animals! I loved Turkey as I got a second place medal in ball! (not mybest apparatus). When we did the online competitions I won many medals and I got crowned Little Miss Flexible! 
Amina: I loved competing in Turkey because there were a variety of different girls from different countries I met. I didn't win any medals but I've learnt more about the culture on the free days, I also loved Germany because I had a fun experience training with my friends, it was my first international competition and it was very, very fun!
What is your proudest achievement in the sport?
Zalina
: 
My proudest achievement is definitely Little Miss Flexible, I got to wear the red award ribbon with Little Miss Flexible written on it with gold sparkly letters!
Amina: My proudest achievement was in the national competition where I won gold with hoop! The competition was not easy as there were a lot of good girls but I managed to catch every throw which took me in first place!