After a challenging 15 months the region's elite netballers have something to shout about at long last, with UAE Netball set to make a dramatic comeback for the 2021-22 season.
With Covid restrictions slowly being eased, the UAE National teams will return in Open and U17 categories, with both squads set to compete in Europe next season.
UAE Netball Chair, Abdulraheem AlHashemi, delivered the good news in an official statement earlier this week.
"As Chair of UAE Netball I am delighted to confirm that we have started our 2021/22 netball journey back on the international stage."
Team Manager, Susanne Skelding, explained more about the next steps for the programme now they've been given the green light.
"The Open age-group will play in the NE Challenge Competition in October, this event replaces the May 2020 & 21 competitions that could not go ahead due to Covid and ensure that each country can maintain their world ranking."
You can take a look at the top class facilities the players will be using at JESS Ranches in our video below!
The trials will whittle down the candidates from 40 to a final squad of 18-20, with selected others being invited to make up the training squad.
This long squad of 18-20 athletes will then undergo intense preparations over summer after which a travelling squad of 12 athletes will be selected to participate in the Netball Europe Challenge Competition, which will take place in Gibraltar in October.
Skelding, who also heads up Active Netball, hailed the news as a landmark day for netball enthusiasts throughout the UAE.
"Netball is a huge part of peoples' lives here in the UAE. In addition to providing exercise, competition and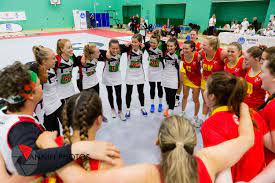 community, we have a host of players going through their umpiring and coaching qualifications.
"There's huge scope for young men and women to develop and grow both on and off the netball court, so the return of UAE Netball is the cherry on top of it all."
Once the squad is selected there will be a month of squad training, giving the players the opportunity to get back into the swing of being part of a competitive netball environment. During the summer months the players will then follow their own fitness regimes, before coming together again in August for two months of intense preparations before the tournament.
It's a big commitment from players and coaches alike, with everyone participating on a voluntary basis.
The October tournament will provide much-needed game time for the UAE Open squad, who will travel to the Isle of Man in May 2022 with a view to protecting and potentially improving on their current ranking position of number 37 in the world.
The Under-17 team will be selected after summer and will then prepare for their own tournament, which will take place in Gibraltar in March. Skelding believes this will act as huge motivation for the region's talented young players.
"There is a thriving youth netball scene here in the UAE, and the return of the National teams gives our best young players something to aim for once again.
"Many of these players have ambitions of playing at university or professionally in the Super League, so this marks an excellent stepping-stone for them on that journey."
Stay tuned to Gulf Youth Sport for more updates on the UAE Netball team in the coming weeks!