Dubai's Kings' Schools have come together to get in the mood for a summer of sport with their Virtual Olympic Games at Kings' School Al Barsha, Kings' Dubai and Kings' Nad Al Sheba last week.
The week-long series of events was inspired by the Tokyo 2020 Games which are due to start on 23rd July 2021 after being postponed last year due to Covid-19.
With an Olympic themed dress-up day on Sunday 23rd May, including a torch relay with real Olympic torch used in the London 2012 relay, students across all three schools kicked off the week in style.
James Bedford, Head of PE at Kings' School Al Barsha, believes that after a whole academic year without competitive school sport it was important to give students, staff and their families the opportunity to take part in Olympic-themed activities online.
"With competitive sport still on hold we wanted to bring our community together and what better way to do it then through an Olympic theme house event.
"All parents, staff and students were invited to complete the daily challenges which were held on a custom-built website.
"All the schools held an Olympic theme dress-up day on Sunday to start the games, with a real Olympic Torch from the London 2012 games making its way in Kings' Al Barsha for photo opportunities and to inspire the students to chase the Olympic dream!"
Activities throughout the week gave students the chance to earn important points for their house, with the house gaining the most points across five days of challenges being crowed Olympic Champions.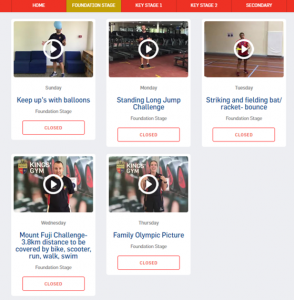 With daily activities uploaded to the Kings' Virtual Olympics website the tasks were tailored to Foundation, KS1,
KS2 and Secondary students, giving everyone in the school an enjoyable and challenging week of sport.
Some of the challenges included keepy ups, the Mount Fuji Challenge (covering 3.8km by walking, running, swimming, cycling or scooting), standing triple jump and even an Olympic-themed family photo challenge.
Mr Bedford was pleased to see such a good reaction to the challenges throughout the week, with students from all three schools really getting into the Olympic spirit. Entries came in from all three schools with young people of all ages and their families trying their hand at the activities pulled together by school PE staff.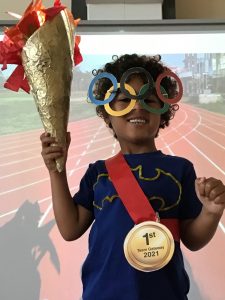 "Having held previous virtual games we knew it was a great way to bring all the Kings' community together and get the competitive juices flowing.
"To kick off the event the three Kings' Schools held an Olympic Dress up day with all staff and students coming into school in Olympic dress-up. Days like this have brought some colour to what has been a difficult year.
"A big well done must go to all of our competitors who have ensured the event has been a big success."
After all of the entries and scores were totalled up, Tudor House came out on top with the most points across the week – a huge well done to everyone in Tudor for your efforts last week! The top four can be seen below:
Kings' Virtual Olympics 2021
1st: Tudor
---
2nd: Stuart
---
3rd: Hanover
---
4th: Windsor