Young athletes across the region have been enjoying a return to training and matches in recent weeks with home training and online coaching becoming a thing of the past.
For footballers or runners it has been difficult to recreate their normal training environments from home, with mini pitches or makeshift running routes being created to allow youngsters to keep active whilst sessions were postponed.
For swimmers, like Cleopatra Swimming Academy's Jaella Mische Mendoza, it has been impossible to recreate life in the pool while at home.
10-year-old Jaella has been swimming for three years and like most young people her age she was really missing her time in the pool during recent lockdown restrictions.
After a year without competition she recently took part in the 1st Swimming Community Performance Championship at Dubai's Hamdan Sports Complex.
After some absolutely fantastic swimming Jaella – who attends GEMS Winchester School, bagged some record-breaking times on her first appearance in a competitive swimming environment since the start of the Covid-19 pandemic.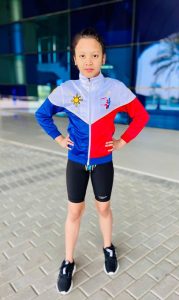 With superb performances in the 50m (00:34.62) & 100m butterfly (01:18.27) and 100m backstroke (01:23.72) Jaella is now the quickest for her age in the UAE and she's looking to go from strength to strength with some consistent training time in front of her.
Speaking to Gulf Youth Sport, Jaella's mum Cecille says she is so proud of her daughter's work ethic during a difficult year away from the pool and she's delighted her dedication was rewarded in Dubai this month.
"Her swimming was put into halt when the pandemic struck. As a parent I was so hesitant to send her back to swimming class and it took us a while (5 months) before we decided to put her back to training.
"Despite that long pause, focused and motivated to achieve her goals, she worked very hard on her training and put herself back on track. By the time she joined the competition this month – she really rocked and nailed it!"
After only a few years of her swimming journey, Jaella hopes to one day represent the Philippines National Swimming team and appear at the Olympic Games when she is older.
Everyone at Gulf Youth Sport wishes Jaella the very best of luck as she continues her upward trajectory.
If you would like the chance to be featured on gulfyouthsport.com you can let us know about your story by emailing content@gulfyouthsport.com.