For many young people, sport is the way many life lessons are learnt. How to deal with losing big games, how to work in teams and how to accept feedback are some of these lessons.
Another is leadership. It's Just Football were asked to run a leadership program at GEMS International School Al Khail and Coach Alan said the students responded well to the important lessons.
"IJF were asked to support the Sports Leaders Programme at GEMS International School Al Khail by delivering a coach education lesson. The session taught students how to plan effectively for a training session and what considerations need to be made when planning and designing a session," he said.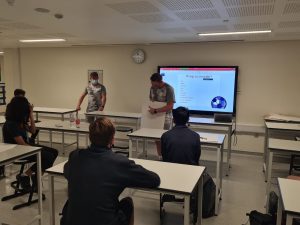 "The lessons we delivered were part theory and part practical to give the students the 360 degree approach to coaching. After designing a progressive training session incorporating the different components of a session in the classroom, we then delivered the practices to the students outside which put the theory into practice on the pitch.
"The engagement levels and interaction from the students really impressed our coaches. Their knowledge and understanding of the considerations needed when planning an effective session was great and the practices they designed showcased their creativity and learning. These lessons will provide a platform for the students to work towards delivering their own practices as a coach to a group of players."
Coach Alan put a spotlight on how important a leader can be to a team in any situation in life.
"Leadership can play a key role in football and often a good leader is at the heart of any good team. The best leaders are clear communicators, have the respect of their peers and are often seen as role models for the wider community," he said.
"By exposing the students to different situations within a programme that requires them to rely on, and develop their leadership skills, this can have a great impact on their people skills as they develop into young adults."