The opportunity of a lifetime exists for male and female football players wanting to combine sport and world-class academic study post high school.
Macclesfield FC in England is expanding its football academy and giving international student-athletes an incredible chance to ascend into their first team.
The club was initially founded back in the nineteenth century and is deeply-rooted within the local community.
Further to the winding-up of previous incarnation Macclesfield Town in September 2020, new owner Robert Smethurst ignited the hopes and dreams of fans by seizing control of the club's assets and rebranding as Macclesfield FC.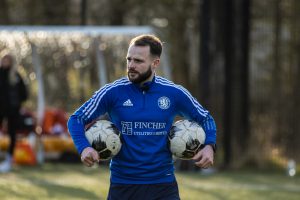 Smethurst moved quickly to secure a vastly experienced board of directors including Premier League international midfielder and nationally renowned television pundit, Robbie Savage.
"We lost our professional status but by dropping down to the level we think we'll enter in it also provides the really exciting opportunity for the international students to play and represent our first team if good enough. There are not many football clubs, particularly with the history of Macclesfield and its fan base, that can do that," Head of Junior Academy Matthew Morgan said.
Head of Football Operations Anthony Curran is also buoyed by the opportunities for international students as the club grows in prominence.
"Our vision is that in September the club is booming with thousands of people. For the international guys that would like to join the football club there is a pathway into our first team, but also a pathway for international students to feel a sense of community within the UK," he said.
"The idea Rob has is to turn the grass into a 4G astroturf pitch so the turf can be used by our junior academy, the first team, our further education programs, and also the community and local clubs and communities."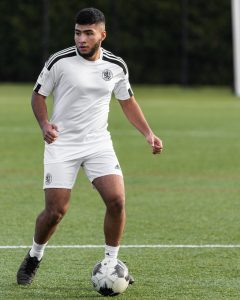 The practical football aspect and education will be combined in a blended study method where students will be able to study courses including business management, sports therapy, nutrition and exercise and sports management.
Both Matthew and Anthony are able to provide tailored guidance to potential players in the region, having worked in the Middle East.
"We were both over there working for the Juventus International Academy, I was based in Kuwait and Anthony was in Saudi Arabia but we travelled around for various tournaments and talent identification," Matthew said.
"I wasn't sure what to expect but I actually found it a football hot bed, everyone's so passionate about it as a family and as a community; if they're not playing it, they're watching it."
Matthew said one of his observations was that the opportunity for football dried up as players reached open-age competition, and that is something Macclesfield is trying to address.
"Football in the Middle East is its exploding in my experience from U5 to U17s and as you get to U18 (and above) you're either professional or you don't particularly play. It felt like at U17 and U18 there was a massive drop off rate because there wasn't those exit strategies for the players," he said.
"The players ultimately fall out of football and it's a shame when you've invested 10 years of development into a sport and then the opportunities aren't there."
Both Matthew and Anthony saw skills and core values during their time in the Middle East that they'd like to see form part of the thriving community club of Macclesfield FC.
The following avenues are available to find out more:
Head to Macclesfield's International Academy webpage: https://www.macclesfieldfc.com/international-academy/about
Send the club a message on their social media:
@MFCIntAcademy (Twitter)  |  @mfcintacademy (Instagram)|  Macclesfield FC International Academy (Facebook) 
Contact Matthew or Anthony on email: