In the Middle East many footballers are fortunate enough to play on pristine facilities with quality equipment and matching kits that brings a club together.
However that isn't the case worldwide and one Dubai football club is making a difference to some young footballers' lives on the other side of the world.
Through the Alliance Gives program Alliance Football Club donates boots and kit to boys and girls across Africa.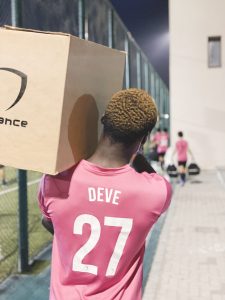 The program began in 2015 with the first shipment of football uniforms to Ethiopia, delivered by Coach Yenny. Alliance Football Club director Mehran Rowshan said donations from his academy's parents and players go a long way.
"The boys and girls who receive our donations are all underprivileged and in need of any usable kits. Some of these kids come to the pitch barefoot, which is heartbreaking. A kit that they get is probably the most meaningful item they own," he said.
"Our players and their families donate their football kits which are either in good condition or are unused. We then top this up by adding more kits and coaching equipment from the club and send these items for donations. A used pair of football boots inside a closet can make another child extremely happy."
"We involve our players in the entire process, from gathering the donations to sorting them out and even packaging them. Since we distribute the kits, our players can see the results of their contributions, such as pictures and messages of those who have benefitted from their donations."
Rowshan estimates around 15,000 football items have been shipped to underprivileged children in Ethiopia, Nigeria, Zimbabwe and Cameroon and the academy is showing no signs of slowing its commitment to a very worthy project.