"We want to continue to spread the Hip Hop Cardio vibe in Dubai through our classes and events to share some happiness and good energy for people at this special time because they need that. When people are coming to have a good time, they forget their problems and enjoy themselves through this activity with dance and exercise at the same time, it's a perfect combo. Then despite this situation (COVID-19), we want to continue to give them this happiness and good energy."
This is the positive mantra Rudolf Ouea brings to Hip Hop Cardio sessions with youth who are looking to get fit and build confidence. Parisian born and raised, Ouea has danced his way from France to New York, Japan and now the UAE.
After leaving a job in finance and his native France, Rudolf built up Hip Hop Cardio in Dubai in 2016, an athletic venture he describes as a 'meeting between Hip Hop and fitness.'
Recently the expansion has resulted in kids joining in the fun, and hopefully learning skills that will help them in other aspects of life.
"We were mainly focused on adult classes until this year… then we expanded to events like Redfest DXB, Dubai Shopping Festival, New Year's Eve Kite Beach and the Dubai Fitness Challenge. The goal was to start in the gym and create a movement in Dubai based on dance, workouts and having fun everywhere and spreading the vibe. We were able to do different events in Dubai where we can see a lot of kids who love dancing, so it is the time to satisfy them with Hip Hop Cardio Kids," Rudolf said.
"As soon as they love dancing and they break this barrier of being shy in public they will love to be on stage to express themself. This challenge can help them a lot with their confidence in their future life. "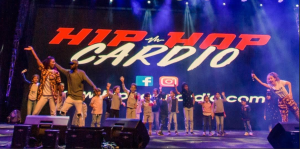 Rudolf wants the children to not only learn from him, but also revel in the energy coming from participants their own age. He is bringing together some top Hip Hop young performers to lead this new endeavour.
"We launched Hip Hop Cardio Kids a few weeks ago at Bhype STUDIO in Al Quoz. After three years doing the activity for adults,  it was the time to focus on the new generation in Dubai. For that we want to give them all foundations in Hip Hop with our team and we integrate ambassadors Fleur from Netherlands and Dareen and Willis from France," Rudolf said.
"These are three amazing talented kids who are sharing the same values as Hip Hop Cardio and have a strong background in happiness, energy and good vibes. Those kids are inspiring me so I am pretty sure that they will inspire kids as well.
"A kid can see him or herself through another kid. (They think) 'If he can do it and we are from the same generation, and I if I am working and practising maybe one day I will be able to reach their level' which is insane at their ages. My sentence at Hip Hop Cardio Kids is "when kids can inspire others…"