They say it takes a village to raise a child and the same can be applied to promoting a healthy lifestyle. With whole community commitment Jebel Ali School took out top honours in the GYS 30X30 Fitness Challenge.
The school received just acknowledgment of their superior team effort following the Christmas break and were handed an Anta Sportswear voucher to kit out one of their sporting teams.
Sisters Sophia and Isabella Starnes along with their parents Duncan and Paddy were integral in helping Jebel Ali to the win.
Jebel Ali's Dubai Fitness challenge coordinator Sam Dooley said he was impressed with the way his school embraced the challenge.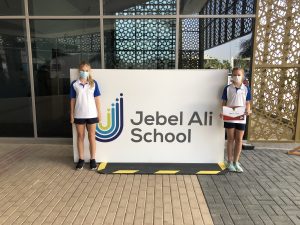 "It was fantastic to see the Jebel Ali community in and out of school work together to immerse themselves in the Dubai 30×30 challenge. Students and teachers together with family and friends took on our weekly challenges as well as taking part in challenges around the city, using the fantastic free resources and events available to improve their own personal fitness and lifestyle," he said.
With the Dubai Fitness Challenge a cornerstone of the year, the Dubai World Expo was also meant to be a major event in 2020. But despite the posponement, Dooley said the school still used the Expo's mantras as inspiration.
"This year we linked Dubai Fitness Challenge with Expo 2020! The Dubai Expo 2020 Ethos is based on four main strands. Each strand was a focus for each week of our JAS challenges.
Week 1- Opportunity
Week 2- Sustainability
Week 3- Mobility
Week 4- Future
Every Sunday we introduced the theme and challenge for the week and on Thursdays we delivered a virtual Shake-Up that the whole school participated in at the same time."
There is no doubt that the commitment to fitness at Jebel Ali has continued beyond the 30X30 Challenge, with the school placing much importance on physical activity."
"It is incredibly important to us as a school to promote health and fitness across our community. We hope that if families and friends can participate in physical activity together then this can increase their enjoyment of exercise and support their physical, social, and mental well-being, " Dooley said.
"We can't wait to get all the students back involved in as many sporting events as possible."