Amenah Almuhairi is always dreaming of a white Christmas.
The 12 year-old is an outstanding snowboarder and won her third national title this year at the UAE National Slopestyle and Big Air Championships.
With interest in the sport on the increase, she said she was thrilled she can spend another 12 months as champion.
"It is such an honor to win this competition for the third consecutive year, especially since this year the competition was of a higher standard with more girls participating," she said.
"The competition was held in two parts, Slopestyle & Big Air national titles. Each required two runs on the Slopestyle course and two jumps in Big Air. "
Almuhairi is often found training at Ski Dubai and travels to compete in more traditional snow-filled countries.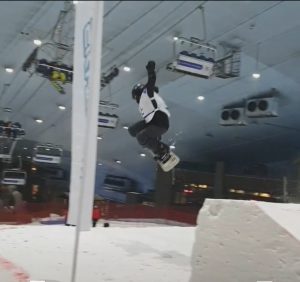 "I have been training in Austria and Switzerland last winter and of course at my home base at Ski Dubai until Covid-19 hit at which time my training stopped for quite a while due to the lockdowns," she said.
"This year has been very challenging for snow training so I have spent more time trampolining and on dryland training to supplement the lack of on-the-snow training. It has made this win all the more rewarding for me.
"I generally spend my school vacations travelling around the world and chasing snow and training camps. This year, that has not been possible so I have had to rely on my home base at Ski Dubai only. It is such a fantastic facility and it is so great to be able to train all year round. I attend my sponsored athletes training at Ski Dubai and the coaches give me tips and teach me new tricks. Everyone is so supportive at Ski Dubai, it is like a big family all cheering you on. "
Almuhairi also keeps fit swimming with Waves Swim and Sports Academy and she has many role models that are the perfect guide for what she aims to achieve.
"Definitely Chloe Kim has been so exciting to follow. She's such an amazing driving force for womens snowboarding in Pipeline. Of course, Scotty James is on top of the list too! In the Slopestyle area, I enjoy Henna Ikola and had the pleasure to be trained by her in 2019 in Les Deux Aleps in France And Nick Geisen in 2018 in Laax, Switzerland. Jamie Anderson and Anna Gasser are also my favourites."
Almuhairi admitted some people where surprised to discover a Dubai local was a snowboarding aficionado.
"When I first started snowboarding, everyone was shocked that winter sports would be interesting in Dubai and especially for a girl. There were no girls on the snowboarding scene in the UAE only a few years ago," she said.
"With publicity and social media, girls are slowly getting into the sport now and it is so nice to see more girls at every competition held. I hope that I can raise more awareness for girls to get into snowboarding and to compete. We can do anything we put our minds to."
With three national titles at the age of 12, anything is possible for Almuhairi.