The four week Girls Community Football tournament went by in the blink of an eye, but that didn't make the winners any less deserving.
AFC beat Go Pro in the U15 finals following a fantastic fast and a furious 40 minutes of football which ended in a nail-biting finish. The final score was 6-5 with AFC scoring in the final minute.
Empire edged Go Pro in the U13's final which again had players needing to contain nerves. The gripping match went to extra time and then to a penalty shoot out with Empire scored on the fourth shot to win the league.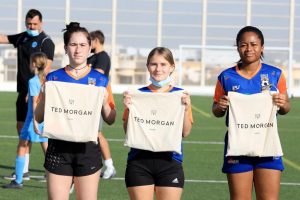 Organisers would like to thank sixth form volunteer referees who worked hard across the tournament, with Ted Morgan providing the adjudicators with a gift bag and voucher.
Wild Wadi provided the prizes fo U15s and Studio One hotel had some great giveaways for the U13s.
There is not a long wait until the next four week league begins for U11s, U13s and U15s on January 15th.
Find out more– www.GirlsCommunityFootball.com