A World Rugby Sevens coaching course hosted by the UAE Rugby has successfully inspired Dubai English Speaking College students to become coaches.
The course provided specific coaching strategies for the shortened form of the game, a sport that has a huge following in the UAE.
DESC Director of Rugby George Cliffe said the introduction to coaching provided a clear pathway to level two, and added he can already see results at his own club.
"I'm lucky to be involved with the Warriors Rugby Club where many of the course attendees and our older players are giving back to the game by coaching every week. I know this is happening at other clubs around the UAE too with students and parents seeing the value in community work," he said.
"Our DESC students have developed tremendously as coaches over recent months and more importantly as people. It really shows in their mature, positive behaviour and attainment around school. It also opens doors for them in further education and job opportunities, as they can evidence skills they've learnt and put into practice, which looks great on CVs and shines through in interviews."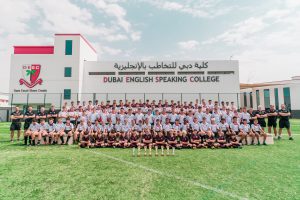 Five students, three staff members and three parents from DESC took part in the course and Cliffe explained what the group gained from the course.
"They took away a good understanding of the demands of the game and how their training can be planned to meet these demands. We also discussed how game-based learning is a method to base your sessions around, complimented by other strategies such as technique and confidence-building drills, as games are more competitive and enjoyable for the participants, and they get better at playing the actual game!" he said.
Given match play is the most enjoyable way to learn, Cliffe is hopeful there will be a return to contact sport in the near future. But he said the smaller group sizes needed to comply with COVID-19 protocols have aided players' development.
"We're gradually getting back to where we want to be, but safety is still our number one  priority. We're following all of the protocols and doing as much as we can in school and clubs to give the players a positive experience," he said.
"The return of contact rugby and bigger group sizes is the next big step for us and with the support of Dubai Sports Council, the KHDA and the UAERF, we are hopeful it won't be too far off.
"That being said, the smaller group sizes and increase in coaches has definitely been a blessing in disguise, with more players enjoying an increase in involvements in the game and learning more as a result."
Ever the rugby enthusiast, Cliffe encouraged anyone thinking of playing the sport to have a go!
"If anyone wants to get involved in rugby at any level, now is always the right time!" he said.
"Speak to your local clubs and PE staff who can point you in the right direction. As well as playing, there are referee courses, coaching courses and first aid courses available too, so there's an avenue for everyone in rugby."