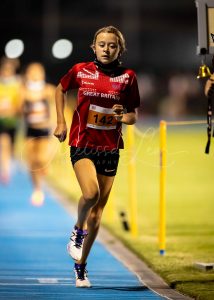 Olivia Ashcroft is an all-rounder in sport.  Her main sports are athletics, netball, and football. She recently won Sportswoman of the Year at DESS in Year 6, one of the most prestigious accolades at the school.
Athletics is her passion, and her long-term goal is to be an Olympic athlete!
She has always excelled in longer distances from cross country races (1km-1.6km), aquathlons, and track events of 600m in primary school.
In cross country he was a medallist in all DASSA run events from year three onwards and won her age group in Super Sports event when aged nine years old.
In aquathlon Olivia was was the overall champion of her age group for DASSA aquathlon in year five, plus part of the winning school team event this year too.
She is in the U15 at Athletes In Schools age category, even though Olivia only turned 12 last month,  and ran a 2 minutes 40sec 800m last week!  A personal best with lots more to come.