Sisters Thalia and Khyrah O'Reilly are using the Dubai Fitness Challenge to build up their strength.
The Dubai English Speaking School students signed on to GYS' 30X30 Challenge, powered by Movement Wins and Anta Sportswear, in the aim of burning the most calories across the month.
The siblings are members of Ultimate Athletics, play netball at the Dubai Netball Association and swim with My Sports Academy. Khyrah also practises gymnastics with Stamina 11.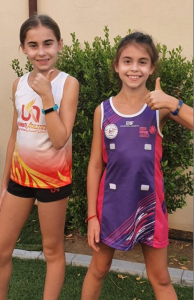 Thalia,9, and Khyrah,8, explained they would like to become stronger in order to improve their performance across all sports.
"I would like to achieve being the best I can be and concentrate on building muscle and getting stronger to compete better in my sports. I love to run with Ultimate Athletics and play netball with DNA. They are my favourite sports so I always take part in the leagues and race nights as they are exciting!' Thalia said.
 "I love doing all of my sports but especially netball. I practise all the time at home and I'm part of a league with DNA and I'm getting stronger every day because of all the other sports I do too. I hope to keep getting stronger and work towards my 30×30 goal! " added Khyrah.
Each day presents another opportunity for the pair to find a fun way to exercise.
"We hope to, now the weather is getting cooler, get out and about around Dubai to all the outdoor play areas as well as it's great when you can have fun while getting fit. We are taking part in the Skechers run this coming weekend and we go on bike rides and walks when we can."
The sisters have even shared a fitness tip they swear by, and it's easy to follow.
"Keep strong and eat a well-balanced diet… walking every day helps you as well!"
You can still sign up to the GYS 30X30 Challenge, with every calorie burned helping your school win a prize. Head here for more information and to sign up.