By Jasmine Pitman
GYS contributor Jasmine Pitman reflects on the excruciating wait between completing competitive runs, as COVID-19 closures forced her to discover new ways to stay active.
The early morning of March 14 at the Dubai Autodrome seems such a long time ago. As always, I enjoyed the RunSqueak "Run The Track" event. However, I had no clue as to what lie ahead, how different my life would be. Just afterwards the world started to change and 2020 unfolded as we all now know.
After returning to Abu Dhabi the COVID lockdown became effective – everyone's priorities changed, and everyday life was not as we knew it.
I was lucky to have some outdoor space in which to exercise. A few weeks before lockdown, I never dreamt that I would ever be training daily behind closed gates in the garden and actually running 5km up and down the drive! No complaints though…this kept me going and offered the escape I needed after home schooling.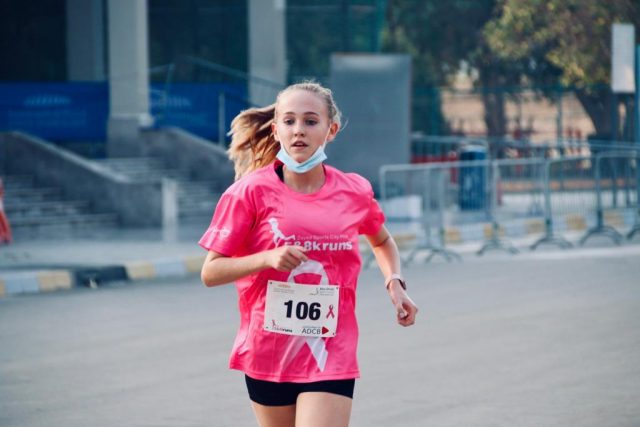 The weeks and months that lay ahead were tough, but the pandemic precautions and guidelines were understandable and sensible. Priorities refocused for everyone, as staying well became the focus.
Eventually news came that we could exercise in our local area, this was great news! From that day, the 3km track around the Grand Mosque became my second home. However, I missed the great running meetings and competitions throughout Abu Dhabi and Dubai.
Pre-COVID, these had been the focus of most weekends, during the running season. I missed the coaching, friends and camaraderie at my Ultimate Athletics training sessions. I just hoped that these could return soon, so that proper training could take place. Throughout lockdown, we were doing virtual training sessions with Ultimate Athletics and this was something to look forward to each week!
The day training restarted was such an emotional one and just the feeling of seeing fellow athletes and friends was amazing. Masks and social distancing and all the other precautions made things different, but it didn't matter – we were all back doing what we loved most.
A three run Abu Dhabi Sports Council (ADSC) race series indoors in Yas Mall was announced and this was welcomed by all the local runners, all of whom, were eager to get back racing. These were great and were managed so well by GMS having to adapt to a new way of staging such events.
We then looked forward to racing outside on the road again. At last on September 24 the end of my personal 192 day wait arrived. Zayed Sports City was the venue for the ADSC Night Run. GMS hosted a great event, and this was quickly followed by a Yas Sunset Run, ZSC Pink Run and an Al Ain Oasis Run.
The format is different with staggered starts, social distancing and no discussion pre or post-race with friends, but we are back running outdoors. It's been a long wait for good reasons that we all appreciate, but what a boost to morale!
The longed-for outdoor races are back in Abu Dhabi and my thanks to the authorities, ADSC, GMS and everyone that has made this possible in such challenging times.
Do we miss running on drives, on balconies or round our houses? No! The long wait is over and runners in Abu Dhabi are smiling again.
Jasmine Pitman,14, is a student at The British International School Abu Dhabi and a GYS contributor.