Young athletes in the Gulf love setting themselves a challenge and Shamsa Al Mheiri,11, has given herself the goal of swimming the equivalent of the English Channel.
The Victory Heights Primary School student will complete 2000 laps of her backyard pool in order to clock up the 34 kilometres between England and France. 
Inspiration for the major undertaking comes from Shamsa's grandfather Mekki Mahmoud Abdulla, who recently passed away of cancer. She is now swimming the length of the straight to raise money for Al Jalila Foundation, a UAE foundation which invests in medical research in the nation.
The passionate dressage rider and avid netballer told GYS about the impact her grandfather across her sporting endeavours:
My passion lies with the horses. I currently hold the title of UAE junior dressage champion. I am also a showjumper on the FBMA team "Fatima Bint Mubarak Academy' an academy aimed at encouraging and supporting Emirati females into sports.
My dream and goal is to one day to represent the UAE at the Olympics in equestrian and  not only will I do it for my country, but for my grandfather.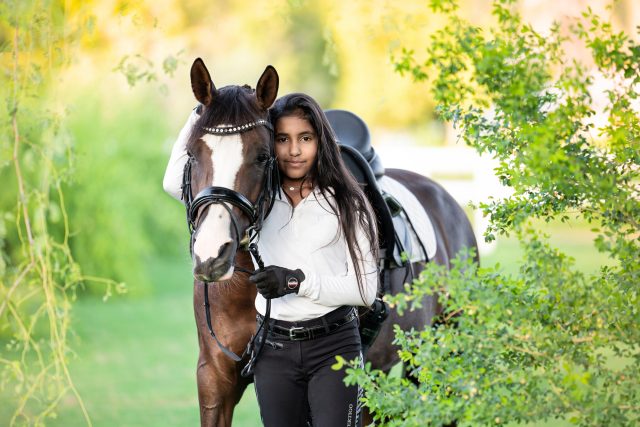 I'm very much into a lot of team sports. I was chosen to represent my school at the BSME Games which unfortunately didn't take place this year. 
I train with Active Netball regularly and in a netball squad. I'm also in my school swimming squad, being one of the fastest year six breast stroke swimmers in Dubai. 
I'm doing this for my grandfather who recently passed away due to cancer. He was a big role model encouraging me to keep active and be sporty. 
He actually got me my first horse and made sure all our summer holidays in Spain were submerged in sports, whether it be golfing or swimming with him daily, to riding two times a day.
It was funny because from the golf course at one of the holes he could look over to the stable arena and you could see me having my jumping lesson. He would be so proud and shout to his golfer mates "that's my grandaughter!"
I am very competitive (I wonder where I got that from?!) but my grandfather always taught me to be a good sportswoman and to always congratulate the opponent. 
I will swim over the 15th -25th October. I will do 200 laps a day and also ride my horses daily.