If there's something that screams normality, it's Ultimate Athletics Racenights held on a warm evening at Dubai Sports City. For the first time since February the event is back on October 29th, with modifications of course.
Head coach Lisa Campbell explained what's new for the first Racenight in eight months.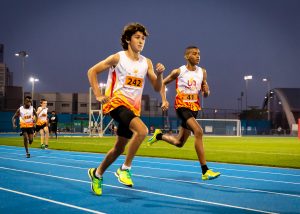 "We are beyond excited to be back hosting on October 29th. I'm super excited to see the athletes in action as they have been training hard and deserve their moment to shine!" she said.
"As the 12+ restarted training before the U12 the upcoming racenight will be for U15, U17 and seniors only. Plus as it has to be spectator-free we want to start with the older athletes.
"We are confident we can manage the event following all the guidelines set by the Dubai Sports Council as we have been doing in training sessions.
"This Racenight will be slightly different to the previous league style event as it will be the first of a series of stand-alone championship meets with medals for top three in each age group and event. New for this season will be the addition of relays 4x100m and 4x400m.
Registration will be centralised through Premier Online and are open now ➡️  https://www.premieronline.com/event/ultimate_racenight_championship_5364