Isn't this a brilliant idea? A central database of swimming records for young athletes in the UAE is being compiled online.
Apex Sports Academy has created the first edition of the UAE Swimming Record Holder Program, and athletes from every academy can have their results on show. This will create functional and wide-reaching documentary of the top times in the country.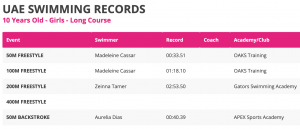 The results will be housed on the Apex Sports Academy's website and will be kept up to date to motivate each young swimmer to be their best.
Results must be clocked at an official competition and there are a myriad of events and age groups you can become a record holder in! Each age group from 10-17+ for boys and 10-16+ for girls will be separated and all events except 800m freestyle, 1600m freestyle and relays can make their way onto the database.
Times are already being uploaded and Apex Sports Academy has intentions to liaise with the UAE Swimming Federation to have their logo on the trophy new record holders will receive to commemorate their outstanding achievement.