Romanian U16 national champion is a title with a nice ring to it. It belongs to Stefi Bojica's after she won the championship just two weeks ago and the CF tennis academy star can not wipe the smile from her face.
"I'm so proud of myself, I didn't expect to reach so far in the tournament and I'm just happy that I won the tournament and became the national champion," she said.
"I was playing well and I was hitting the ball clean and nice but I didn't really expect that I would reach the final."
With a damaging serve and a forehand that is just as potent, last week Bojica even made it to the quarter finals of the Romanian U18 National Championship.
It's no surprise given her dedication. Five days a week she trains twice a day and the sport means everything to Bojica.
"Tennis is my life. I really love tennis and want to keep on playing," she said.
"I want to play tennis of course (in the future) and be somewhere there on top in the WTA. I want to have fun playing tennis."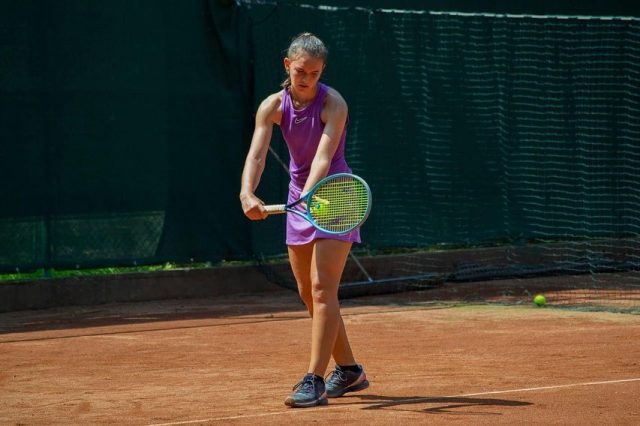 A student at Victoria English School Sharjah, Bojica first picked up a tennis racquet aged just four.
"I actually started in a hotel at some random courts close by (to home) from aged four to six and at six years old I found out about the club (CF Tennis Academy) and started out there," she said.
"My dad actually was into tennis and I saw my first match when I was about two years old and it was the Dubai Duty Free Tennis Championships."
Further training with CF Tennis Academy has helped her rise, alongside the backing of her parents.
"The whole CF Tennis academy just supported me my whole life, also my parents sacrificed a lot for me. They (CF Tennis coaches) made a huge impact, I'm such a good player because of them, they're all very nice people and they help me through my life and they help me with many things," Bojica said.
Bojica would love to break into the WTA rankings one day and she's had close up exposure to her idols after being a ball kid for six Dubai Duty Free Championships.
"It was a great experience because I was right next to them and I could see all their tactics and how they hit the ball, it was just a great experience," she said.
Current tennis elite in Ash Barty, Naomi Osaka and Stefanos Tsitsipas top the list as Bojica's favourite players on the tour and with each day of training it looks more and more likely that Bojica will one day join them there.