Everything Jac Downham does is extraordinary in every sense of the word.
Right from his early days–surviving as a baby diagnosed with Kawasaki disease– all the way to completing two half-Ironman in two weeks earlier this year.
When GYS last caught up with Downham two years ago, he preparing to complete his first Ironman 70.3 Despite spending all his childhood and teenage years with recommendations to avoid competitive sport, doctors had just given him the all clear.
But living with Kawasaki disease was never a barrier to what Downham could achieve and the green light gave more reassurance that an Ironman 70.3 would be achievable.
"From when we did the previously article I was just about to step up to do my first 70.3 and we didn't know how that was going to go either. It's been quite a roller coaster ride." Downham,19, said.
"Two years ago I was discharged from Alder Hey hospital in the UK and that was the last time I've been back there and touch wood that carries on.
"Alder Hey was where I was taken to, where my records were, they knew what they were doing and had a check up with me every Christmas and two years ago they decided to discharge me and that was when the Ironman journey really began (but) I'd started training for it before then."
EARLY LIFE
Downham was rushed to hospital as a baby under extraordinary circumstances as mum Cheryl previously explained.
"A few months after Jac was born, in October 2000, we decided to go to Wales for a family holiday. Walking down the beach on a sunny September afternoon, Jac suddenly turned blue," she said.
"Luckily at the hospital in Aberystwyth the paediatrician was on duty that day. At this point Jac died on us three times before they could move him to intensive care. 
"As the years passed Jac began to lead a pretty normal life but was advised never to play competitive sport, which was very difficult as a young boy amongst his peers."
Kawasaki disease is a condition that impacts the cardiovascular system, putting affected children at risk of heart attacks and burst blood vessels. To improve his lifestyle, the family moved to the warmer climate of Cyprus where Downham focused on swimming. But a move to the UAE meant sport was hard to avoid.
"Prior to us leaving Cyprus it was the first time I'd ever kicked a football and then I moved to Dubai and we've been here 13 or 14 years. You know what Dubai is like, it's quite a sport orientated country. Everything is about sport, PE lessons," Downham said.
As a result Downham said he started playing Saturday morning football and coaching cricket with the full backing of his parents.
"We agreed that we'd give it a shot so from there on I played football for six or seven years, (with) no problem at all, but obviously my parents were still worried and cautious," he said.
Then along came triathlon with My Tri Club and raining with Ben Parnell before being mentored by Matt Dewhurst.
TRIATHLON
The culmination of Downham's determination came at the beginning of the year when he competed in the Dubai Ironman 70.3, and followed that up two weeks later with another mammoth effort in Oman.
"It was tiring, the body had actually performed better in Oman than what I was expecting, obviously the body in Oman was broken after two races back-to-back. The key was structured training between Dubai and Oman making sure the training load wasn't too much but not stopping completely or else the body will lose it pattern," he said.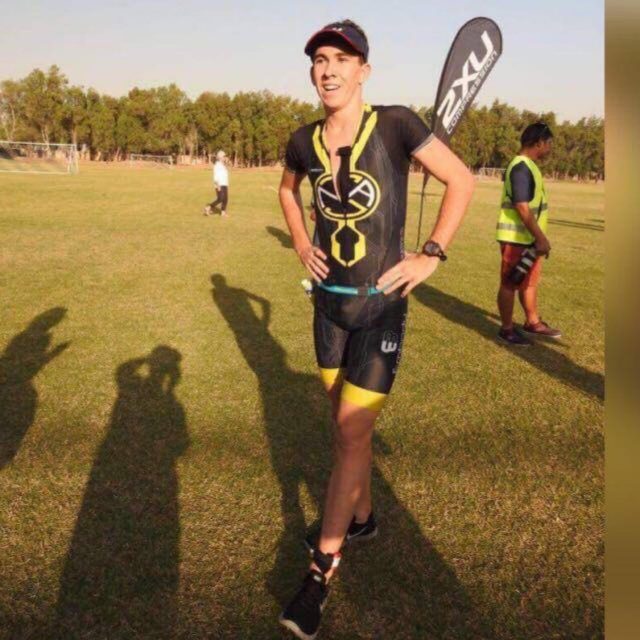 "Thanks to Matt, he supported me in doing what I wanted. We had a discussion about it. Matt didn't think it was right because he had my best interests at heart, obviously being 19 years of age you don't want to put too much stress and pressure on the body, but me being the stubborn person I am I had it in my mind that I wanted to qualify for the World Champs."
The goal of an Ironman 70.3 World Championship qualification was achieved with a second placed finish in his age group. The feather in his cap sits alongside a spot in the Great Britain 70.3 team for his age group, which he qualified for after his first Ironman 70.3. His times have only become quicker since then!
THE FUTURE
While Downham said 2020 was 'meant to be our year' things haven't worked out that way with COVID-19 forcing the cancellation of major international sporting events where he was meant to compete.
"In the last few months I would have had my GB race, racing for Great Britain, which was meant to be on the 28th of June and then obviously meant to race the @World Championships in New Zealand," Downham said.
But the future is so bright for the extraordinary teenager that has already combat so much. In September he'll take up a spot at Northumbria University in Newcastle to study sport coaching.
Despite moving away from Dubai,  Downham was adamant the aim is the same.
"I still have the same goals, I want to qualify for the 70.3 World Championships, I want to get the opportunity to represent my country again which I'd love to do in the future because GB lets you defer your place to the next year. I'll carry on sticking with training and I have an ultimate goal of stepping up to a full Ironman so a 3.8km swim, 180km bike and full marathon." he said.
With such a positive outlook on life, we have no doubt Downham will meet and surpass every marker he sets for himself.
"(Having health issues) spurred me on to give it a shot, to prove people wrong and also to prove to people there are no barriers and you're able to do whatever you want to do as long as you put your mind to it and commit to it," he said.